Tag managers are one piece of the analytics tracking process. They act as the "middle-man" between your website or app and your analytics platform. Using a tag manager, you can easily and reliably set-up what data you want to collect from your website and ensure it is being sent to your analytics platform correctly. Very basically, a tag manager will use dynamic snippets of code that are added to your website's pages. I hope the image below helps!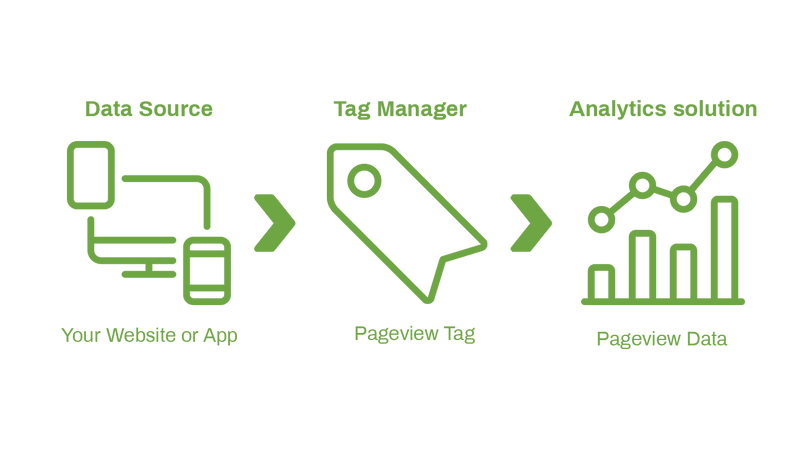 As an analytics specialist, I work with tag managers all day and I believe they are a necessity for an effective analytics set-up. There are some key differences between tag managers and analytics suites. Most importantly, tag managers do not collect or visualize data, they merely transfer it to the analytics platform. Tag managers are versatile and can collect data from multiple sources. If you decide to use a tag manager, you need to implement the specific snippet in your website code. You will no longer need your analytics snippet. Analytics platforms, upon receiving the data from your tag manager, can use the data for creating reports, setting goals and loads of other stuff.
It is very common that tag managers are offered by the same platform that offer analytics solutions. Google Analytics and Google Tag Manager, Piwik PRO Analytics Suite and Piwik PRO Tag Manager and so on. We recommend always using the tag manager that fits your chosen analytics platform. They generally all work similarly, but pairing the two will lead to fewer issues and better results.
Why are tag managers important?
Tag managers are very powerful and can collect data in so many different ways. They make it possible for marketers and specialists to work more independently from developers and achieve tracking that would normally require a lot of technical expertise to implement.
For example, if you would like to track interactions on your website, such as when a user downloads a file, without a tag manager, you would have to insert a piece of code onto that page where a download could occur. Hard-coding tracking like that can be very time consuming and complex, but with a tag manager you can achieve this using out-of-the-box features, offered by many tag manager tools. Plus, you can compile all your trackings in one place and test them on different domains with an instant response!
How do tag managers work?
Every tracking in a tag manager is made up of a tag, a trigger and a variable (not required, but can be beneficial). These three components are widespread in all tag managers and provide structure to each tracking. A tag defines the tracking: What is the tracking for? Is it collecting data for the analytics platform? Is it a configuration? A Facebook pixel? A heatmap integration? The tag sets the stage for the trigger. A trigger, as the word describes, tells the tag manager when the tag you have created should fire. This can be a pageview, a scroll percentage, a link click or a completely custom trigger. Variables, also as the name suggests, can be filled by a variable value and provides additional information to the tag manager to ensure that tag and trigger function as designed. One of the most common uses of a variable is for filling values in the datalayer. Say for example you want a tag to fire when a user uses a filter that shows books that are under 5 Francs. You might want to use this information to segment your visitors based on their budget. A trigger without a variable would fire when a user uses the filter, but if you want it to be specific to a value, you can for example use a variable called: price_filter_value. Add this variable to your trigger and voila!
What can we do to help?
Our analytics team has experience with all types of tag managers and over the years implemented trackings big and small. Our priority is to offer sustainable tracking solutions that are functional and mutually understood. Below is a list of some of the solutions we offer:
Analytics Audit
We will review your tracking set-up to ensure it works as designed and follows your data governance guidelines.
Key Performance Indicator (KPI) Workshop
Don't know what type of tracking would be beneficial? We will help you align your business objectives with your website objectives and define a tracking set-up.
Tag Management set-up
Leave it to us! Based upon agreed KPIs, we will implement and test the set-up. Included is a session to show you the set-up and answer any questions.
Coaching
We will give you an in-depth-training on your chosen analytics and tag-manager platform. Come away with materials and insights that will grow your skills in analytics.
Sounds interesting?
Have any questions? Leave a comment or hit me up at daniel.bensason@liip.ch