Last June, we started to create a second mobile application with Compex (brand part of the DJO Global group) who is leader in the muscle stimulation sport world, for both performance and recovery matters. The mobile app goal was to be the companion of Compex device users, in order to help them reach their objectives (performance, recovery, pain management, etc.) — feature that aren't present on the physical hardware itself.
Helping hardware devices to last longer
At Liip, we love products that are made to last, and not to make users consume more. Obviously one has to run his business, but Compex vision with this mobile app really seduced us. For them, this app is a way to make the devices of their users last longer. Indeed, by putting the fast-moving part — that is the software — inside your smartphone instead of the device itself, they ensure an experience that is always evolving,while increasing the longevity of their device (that is well known for its strong quality in the sport market).
A lot of users are still very happy with their 2014 Compex equipment. And Compex supports them in doing so. We love that.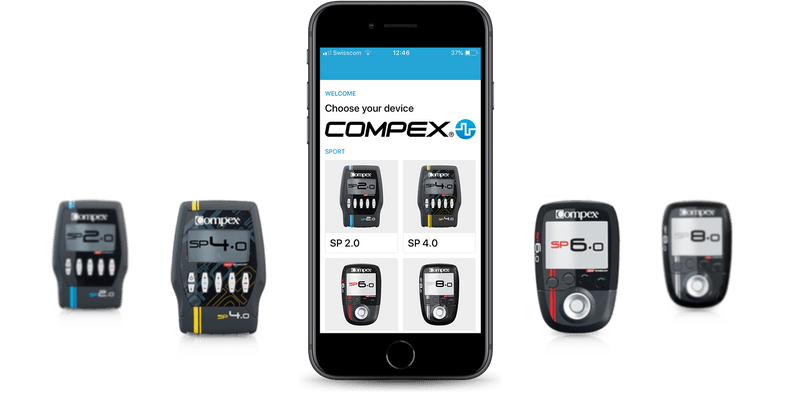 _Choice of your device within the Compex range_
Adding value to users
When Matteo Morbatti, International Product Director at DJO/Compex, brought us the project idea of replacing Compex paper user manuals by a mobile app, we were a bit skeptical. We didn't want to just publish an app for the sake of having one.
He then continued his brief explaining that this was a real need of his customers, but that he wanted to make something more than just putting a PDF into a mobile app. He wanted to make the "What should I do now that I've bought my device" problem easier to solve via an app where we would guide the user from the day he unboxes his product.
That's how we ended up to structure the digital tool in a way that it asks you "What is your objective?", and then make use of all the user manual key infos at the point where the user most need it. That is, after setting his objective for the body zone he wants to reinforce or develop. "The right action at the right time", as we like to describe in our mobile realm.
This way, people get real value with this accompaniment, versus the non-engaging paper version they had beforehand.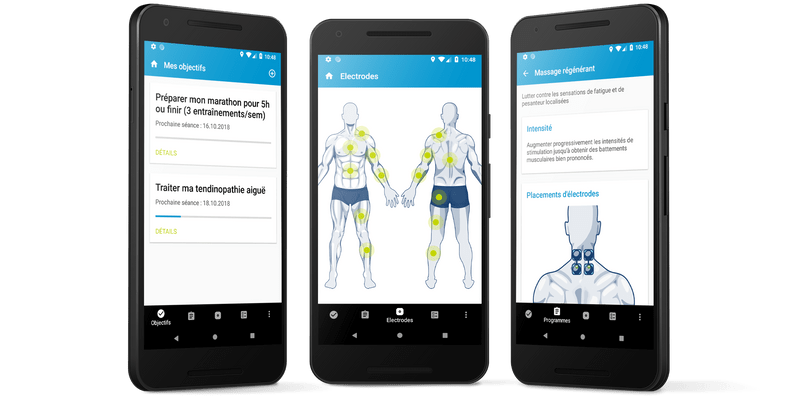 _The right action and information, at the right time_
"Compex had identified a need for these users and decided to respond by creating an app: Compex Coach. For this project, Compex turned to Liip and made no mistake. Having personally taken an active part in the development of this project, I can assure you that the collaboration throughout the project has been fruitful and motivating. Liip's project team is very professional and delivered this app on time and on budget." Matteo Morbatti, International Product Director at DJO Global/Compex
Marketing, done right
Compex also needs to do its business, and to work on converting clients into regular ones. One of the business objectives was to retrieve user's email address in order to send them valuable infos on how to best use their product.
Instead of adding a mandatory email field to use the app, Compex went a step further and played it the win-win way: they offer in clear words two incentives that are a guarantee extension of 1 year, and a discount on consumables that you need as a regular Compex user.
Most importantly for us at Liip, these two incentives are options. If you refuse, you can still continue to use the app freely. And if you accept, you get something in exchange. We let the choice to the user in the end.

_Google Play Store rating when you add real value to people lives_
Next steps
One of our core philosophy at Liip is to "start small and iterate" in everything we do. Matteo and his Compex team have the same mindset. This allowed us to launch this new product in less than 3 months. Yes we could have built the cloud connection (to store your objectives online), or the always-up-to-date user manual instructions. But instead, we built the minimum viable solution and launched it. This allows us to learn as quickly as possible from the end users and to integrate their feedbacks with the next release when we will craft the cloud part of the solution.
A proof that this is one of the best way to build product is that Compex clients ratings are speaking by themselves (4.2/5 on the Apple AppStore, and 4.5/5 on the Google Play Store), and this "only" with a minimum viable solution. We can't wait to delight them even more with all those cool new features!