Consent banners are everywhere nowadays - you probably interacted with one on our website when visiting this page! Their purpose is to inform visitors about the collection of data and give the user the opportunity to opt-in or -out of cookies. Organizations wrestle with consent banners in hopes to achieve a higher acceptance rate while importantly staying compliant with local data privacy regulations. Such was the request from our partner Zürich Tourism - a website subject to GDPR law (due to their high traffic from around the Europe) and with various cookies being collected in order to optimize usability and campaigns. With the new Federal Act of Data Protection (FADP) coming into place on the 1st of September, it was as much important to comply with local regulations. As both laws are quite similar, the goal was to be compliant with both regulations.
This consent banner relaunch took place in the summer of 2023 and the goal was to offer users more transparency as well as increase cookie acceptance rate. I will show you the new banner and highlight some key differences and improvements compared to the old one.
Old banner
For more than a year, the zuerich.com domain, as well as other subdomains such as meeting.zuerich.com and tours.zuerich.com used a custom consent banner built by Liip. It was quite simple and matched the design of the rest of the site. However, the banner did have some limitations, such as:
It did not give any detail about the cookies collected or give the user the chance to select or deselect them.
A link to the privacy policy was missing if a user would like to understand where their data is being sent.
The banner was oftentimes not answered and the user continued surfing the website, and according to GDPR law users need to actively opt-in to analytics tracking for data to be collected.
Language of the banner was always set to the website page language and for those users not speaking English, German, Italian or French, it was illegible.
As Zurich Tourism operates under several different domains, a consent sharing mechanism was put in place that offered an uninterrupted web surfing experience and importantly a way for Zurich Tourism to track users journey from domain to domain seamlessly. The solution in place was difficult to implement and maintain.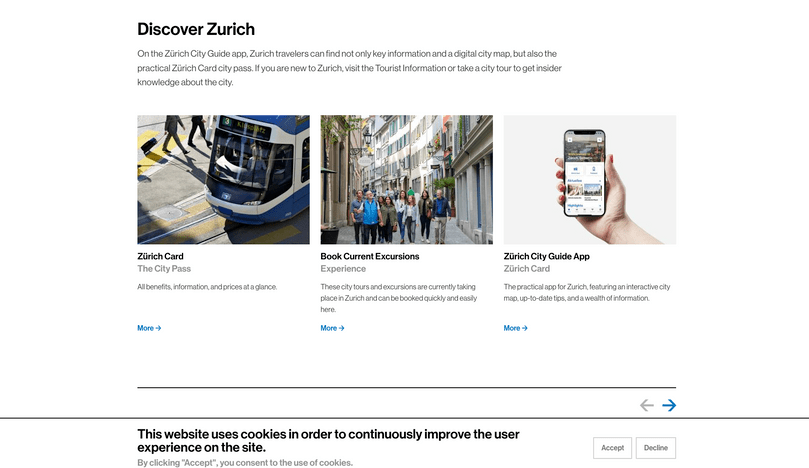 New banner
When a new banner tool was requested, we shared our experiences with different solutions, specifically the benefits of a third party solution and after a short demo, Usercentrics (UC) was selected. UC is a consent management platform (CMP) based in Europe offering organizations banners that are easy to implement and customize.
The banner was implemented on the zuerich.com pre-production environment in a matter of weeks and the testing began. The Zurich Tourism team handled content and design and Liip ensured the banner communicated with the website properly so that the analytics tracking would work according to the consent given by the user. Below are some of the key improvements to the banner following the relaunch:
The banner now features different consent categories, allowing the user to choose what data can be collected while providing transparency about what is essential for the usage of the website.
Solving the issue of users ignoring the banner; now users cannot visit the website without providing their consent decision first. This feature increased the acceptance rate while also improving the user experience (now the banner does not need to popup on every single page until a decision is made). This is actually one of the key differences between GDPR and FADP law: opt-in consent is actually not required for the latter. Nevertheless, Zurich Tourism decided to conform with GDPR.
Users can now change the language of the banner no matter what the website language is. There is also now a link to the privacy policy in the banner where users can get a more detailed overview of how and why their data is being processed.
Usercentrics makes it very easy to share consent between domains - and this is a huge benefit for Zurich Tourism and their 5+ domains. We simply added the UC snippet to all domains code and specified them in the UC interface and users unique identifier is passed in the browsers local storage.
Consent statistics (number of users that accept or decline the consent types presented) are now available in Ucercentrics. Zurich Tourism will be able to use this feature for future optimizations of the banner.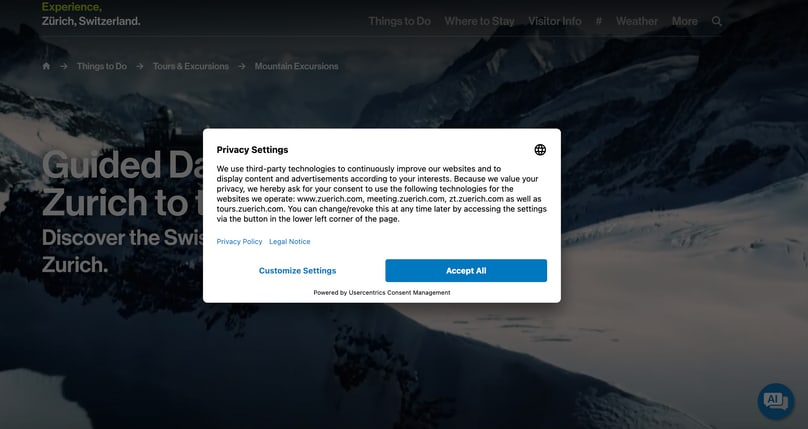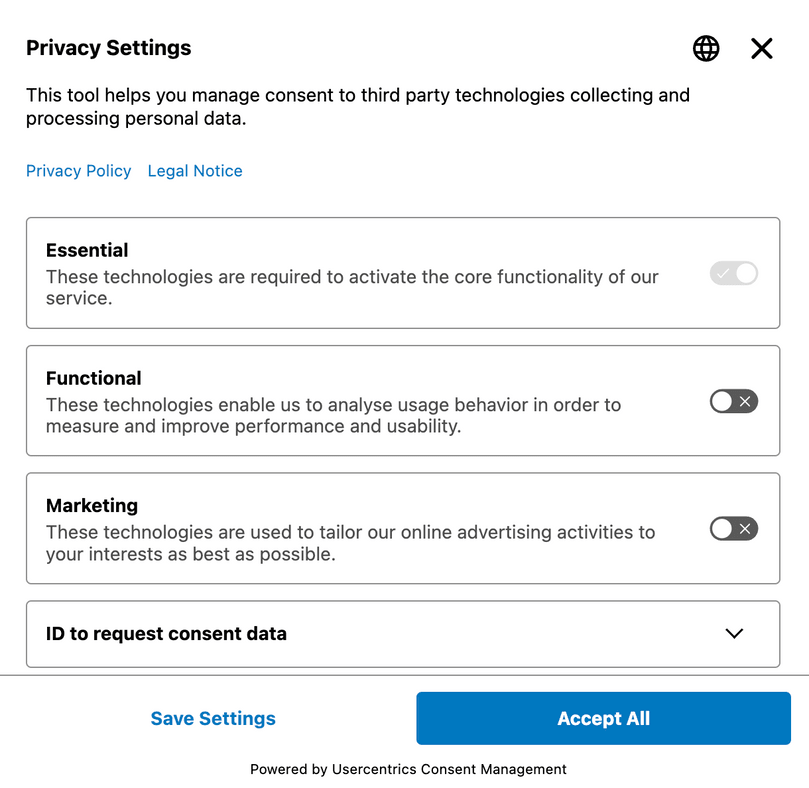 Should you use a Consent Management Platform?
Usercentrics is a great tool and organizations can really benefit from implementing it on their website(s). I still believe that the use of CMPs such as UC only makes sense for medium to large organizations with several consent types and potentially multiple domains. The tool is not free and although the implementation is relatively straightforward and well documented, it requires significant time and expertise.
It is worth mentioning that if you are partnering with an agency building your website, such as Liip, they will be able to custom develop a banner to your specifications - the costs are one time as opposed to the subscription model of many CMPs. The only costs you might encounter with a custom banner are those related to changes in the environment or changes to the laws. But if you do not have a partner specializing in the field, then a CMP might be your only option.