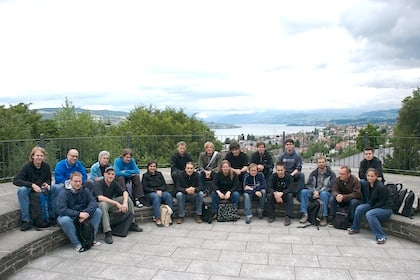 This Tuesday, we had our very first Liip TechDay at the GDI in Rüschlikon. Liip employees shared their knowledge with their fellows in a large range of topics:
Semantic Web
Advanced XSLT
XSS/SQL Injection
Rest-API
Red5
Flux CMS Plugin Architecture
Flash mit Eclipse, FDT und MTASC
Aus dem Flash Nähkästchen
Selenium
It was a full success and the socializing afterwards as well :) And it was certainly not our last TechDay.
The picture above shows almost all people of Liip, except Pierre (who took the photo), Kristina (who had to leave earlier) and Thierry, Ivan and Silvia, which couldn't attend. Some more impressions of the day can be seen at our Flickr Set.