With more than 300 speakers and 50,000 visitors, the OMR conference is the biggest online communication event in the German speaking market, and a strong indicator of where the industry is headed. You can read all about our discoveries below.
Big topic #1: Content is replacing advertising
The topic of content was omnipresent throughout the conference. From general insights to full-on use cases, it was a hot topic that's sure to stick around for the foreseeable future.
Information and entertainment are one winning team

*Image left: coffe roaster J.Hornig on chat bots – Image right: Facebook presenting user data*
Despite the digitalization of our lives, humans will always be humans: We want to solve our daily problems and follow our interests. This is the point Ana from Austrian coffee roasters J. Hornig underlined with the quote from advertising legend Jean-Remy von Matt: "Good communication either entertains or supports." And that's why she and her team have chosen to use a chatty chat bot to help coffee lovers at home with any questions they may have. Nadine from Facebook pushed the point further with the platform's statistics: Information (45%) and entertainment (46%) is what people seek out on Instagram.
Be patient & stay focused – success will follow

*Left: Content Marketing Institute presents their magic formula – Right: Territory trusts in persistence*
Brands have figured out that content is more important than advertising, and many have taken content production in-house. Some are even tracking the success of every bit and byte they post – like Joe Pulizzi's Content Marketing Institute. His learning: Once you start putting out content regularly, it takes 12 to 18 month before you start seeing a return on your investment. Soheil Dastyari, CEO of content agency Territory, came to the same conclusion.
Involve your audience

*Left: Investor David R. Bell believes in storytelling – Right: OMR believes in story sharing*
The most powerful brand message is the one delivered by the brand's users. That's why investor David R. Bell puts his money into start-ups that have a story people want to share. "Orators not customers" is how he summarizes this trend. OMR conference founder Philipp Westermeyer presents the agrees that sharability is the new brand currency. His example to illustrate this trend is Balenciaga who created an extremely expensive Ikea bag replica just to create buzz.
Voice & audio - the revolution has begun

*Left: "Gimlet's" podcasts give brands a voice – Right: "OMR" observes investments in voice recognition*
Matt Lieber, cofounder of the podcasting platform Gimlet, knows that the second revolution of voice is upon us. The company has just been bought by Spotify and is now reaching millions more listeners. He presented some great insights: Gimlet identified that people have around 2.5 hours per day where they seek entertainment yet cannot look at a screen, like during their commute or when cooking. This is all potential time for a podcast, and the perfect place for a brand to be present for their users and deliver valuable content. An even bigger shift is predicted in voice command. Philipp Westermeyer underlines that with the example of how Amazon is investing in voice recognition. He explained that Amazon currently employs 10,000 people supporting its Alexa project and he showed us a page from Amazon's job platform with more than 2000 open jobs in the area of voice regocnition at the moment.
Big topic #2: Artificial intelligence and use case "chat bots"
Yuval Harari's vision for a world with AI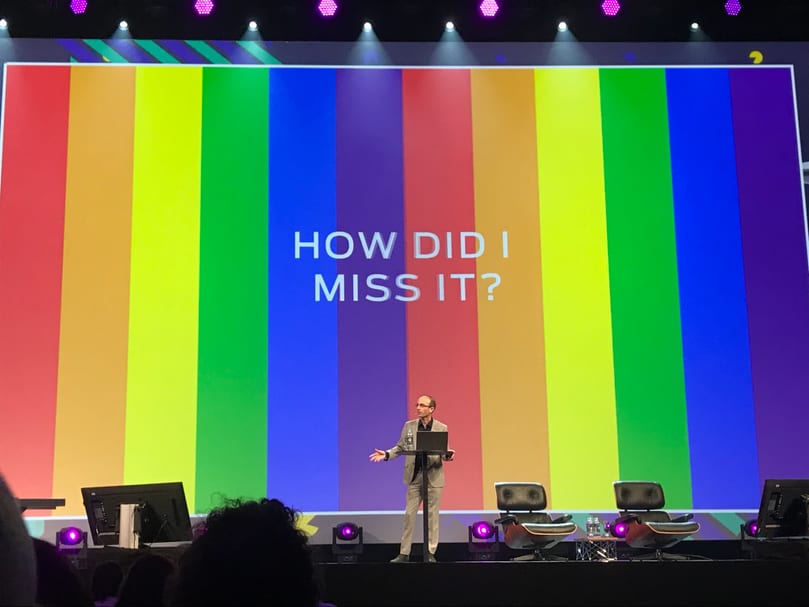 *Image: Yuval Harari ponders all the (unexpected) issues AI will raise.*
AI will soon know us better than we know ourselves. "What will happen to us when Coca-Cola finds out I'm gay before even I know?" Yuval Harari began his speech with a personal story: He didn't realize that he's gay until the age of 21. Yet in retrospect, he says, the signs were obvious. So a machine tracking his eye movement would have noted that he glances at the man in a picture instead of the woman. With that information in hand, Coca-Cola would then present him their product in conjunction with his deep and unconscious desires. And he would always opt for that brand because unconsciously he feels they understand him best. He has plenty more examples of how AI will intrude in our lives: What will happen to relationships when the refrigerator delivers on our needs us more precisely than our spouse? How will society change? His scenarios go even darker: What will happen when North Korea forces its citizens to wear bio-sensors that detect anger when looking at Dear Leader? His advice: Technology takes no side, so we must choose how we use it wisely.
China is way ahead of us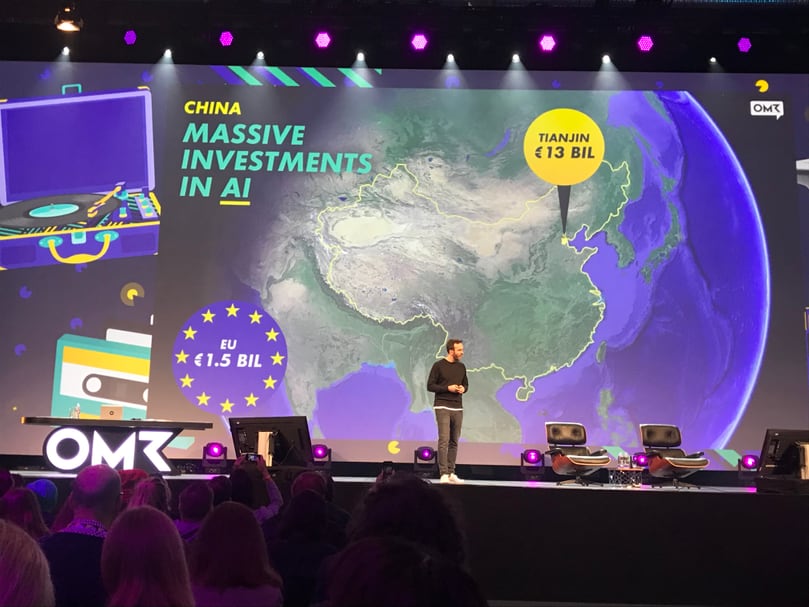 *Image: OMR observes heavy investments in china*
The many speeches about the Chinese market (speech 1, speech 2, speech 3) made it clear that we've got to keep watching out for what's coming out of China. Predictions are that what we see today is just the very beginning, as huge investments are being made overseas, especially in AI. Philipp Westermeyer's example shows that a rather small city in China invests almost 10x more into AI than the entire European Union.
Chat bots become a commodity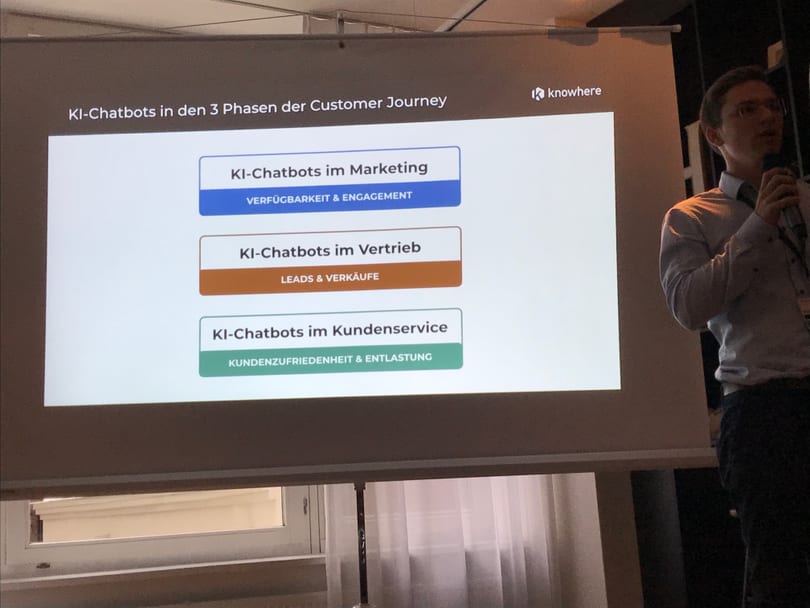 *Image: AI agency knowhere categorizes AI in three use cases*
Frederik from AI agency Knowhere presented several use cases for chat bots. The ones we liked were the ChatYourself chat bot, which asks early Alzheimers patients questions about their life in order to support their memory later on. Another useful one for daily life is the Novi chat bot, which presents news in a user-friendly way. And then there's the golden state warriors chat bot that let's you discuss sports results. Toothpaste brand Signal's chat bot supports kids when brushing their teeth, and the alcoholics anonymouns's chat bot let's you discuss taboo topics in a private way. Medical device producer Dräger was also on stage to present their process to install a chat bot. After using the bot for about 6 months, they can already say it has reduced the amount of incoming questions by around 45%.
Chat bots win over a website and an app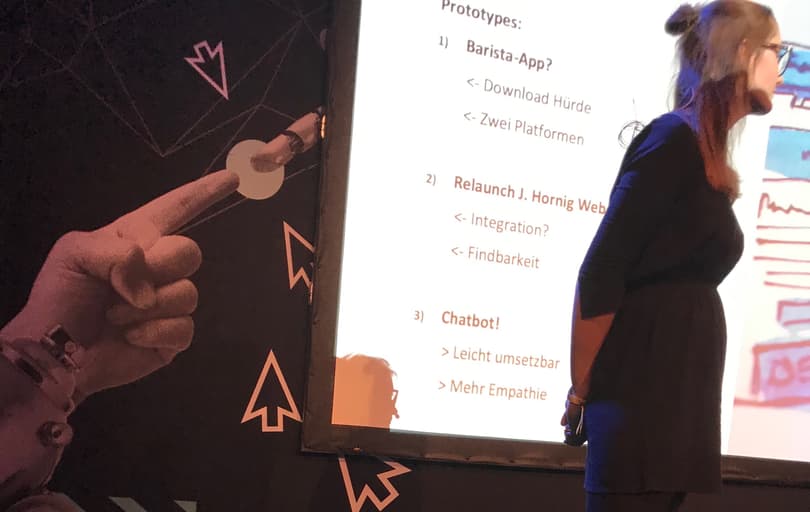 *Image: coffee roaster J. Hornig's presents their arguments for a chat bot*
The coffee roaster J. Hornig wanted to create a "barista in your pocket." They were looking for a digital solution for anyone with a coffee-related question. When exploring possible implementations, a chat bot won. Easy accessible via voice, conversational in tone, and with the free chat bot solution provided by Facebook Messenger, a single employee at the roastery could create a proof-of-concept within a month.
Consultancy firms have become the new marketeers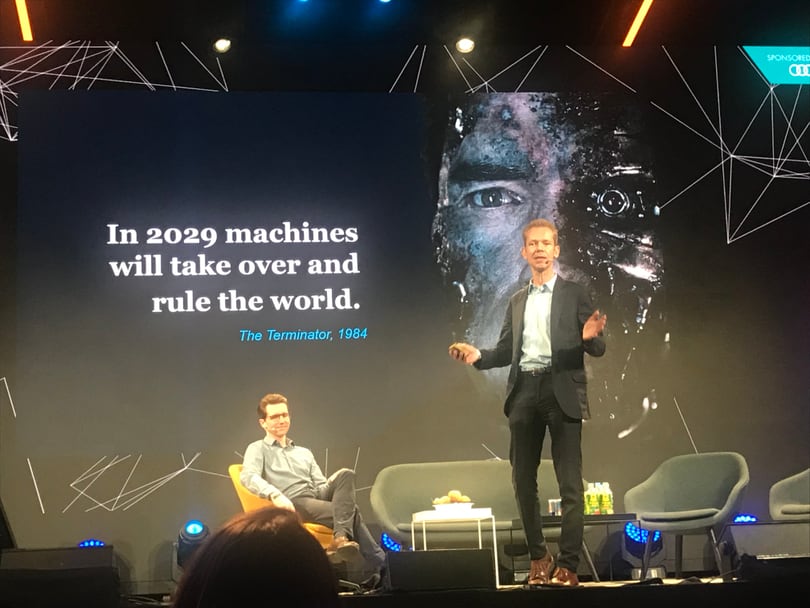 *Image: Accenture presenting their view on AI - with the help of Arnold Schwarzengger*
Interesting things are happening in the world of communication. Is it a good or a bad sign when Accenture and McKinsey have several slots in a marketing conference? Either way, it's a solid indicator that data is taking over. Just as The Terminator predicted.
Side note: Agencies are dead - long live agencies

*Image: Content agency
wldmr
illustrates how agencies and clients become one team*
Platforms like Instagram, YouTube, Facebook, Snapchat, and Tiktok all held several speeches and masterclasses. Data agencies were quite present, as were several brands presenting their cases. What was missing? All the big creative agencies. If an agency was on stage, the focus was always on how they form a team with the client to yield the best results. The days where the agency was boss and told everybody how things are done are long gone. And we think that's for the better, as brands know their own story best and we all need to find the user's need in a joint effort.
This is actually what we at Liip believe in too. And visiting the OMR conference has underlined how important that is. We also believe in data and data analysis. The only thing that we don't do: Work with influencers, a topic that was also quite present at OMR. Something to focus on next yea!
Overview
Big Topic #1: Content is replacing advertising
Information + Entertainment = A winning team
Be patient & stay focused – success will come
Involve your audience
Voice & audio - the revolution has begun
Big topic #2: Artificial intelligence and use case "chat bots"
China is way ahead of us
Chat bots become a commodity
Chat bots win over a website and an app
Consultancy firms become the new marketeers
Sources: header image rocketandwink.com
The experts behind this article
Thanks to Lena, Jenny and Daniel for content and copy cleverness. This article would not have been possible without you!