The platform, which deals with a taboo subject, death, wants to accompany this painful moment of life as well as possible.
Targeted user experience
Already in the first workshops and especially during the creation of the empathy maps, we realised that a relationship of trust with the user is particularly important in this project. Hardly any other topic is as sensitive as death - all the more so when it involves confidential information.
The defined personas enabled us to better understand our over 55-year-old users. At the same time, we were able to take into account the client's wish not to make the platform appear "gloomy". The usability of this project is therefore not based on nice transition effects, but on the simplicity of the platform, which gives the user the necessary confidence.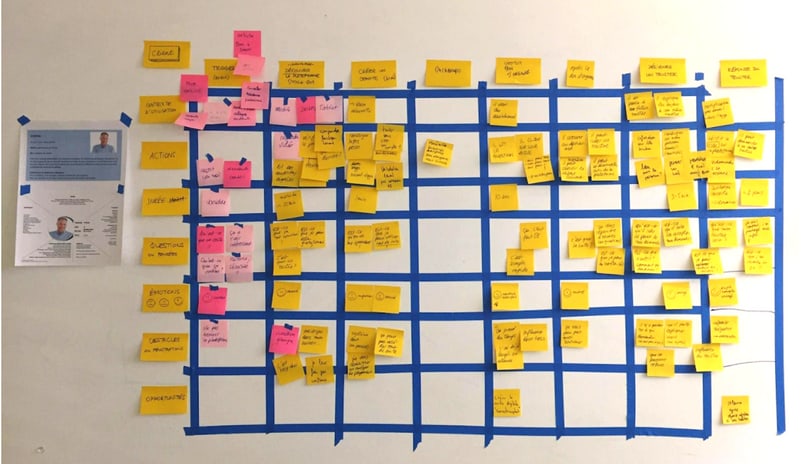 Out of the empathy map the customer journey evolves.
During the user journey the main focus was to be as straightforward as possible in the wording and to get the user to fulfill their needs as fast as possible. The result is a clean, appealing platform in neutral yet energizing colors to turn a taboo into a topic worth talking about.
How the platform works
Tooyoo connects in each case a "relative" (i.e. the person taking out a subscription) and his or her "legacy contact". After creating the user account, the relative is guided through the most important questions. These determine the basic information at the hands of the legacy contact.
Depending on the area of focus, the relative can add topic-specific questions. Despite the large amount of information required, the process is possible on all common devices.
The relative sends an invitation to their legacy contact. This automatically gives them free access to the platform, where the available information is stored in three levels of confidentiality:
Before death
After death
After acceptance of the death certificate
After accepting the invitation, the legacy contact receives access to the information of the relative in the form of a timeline. This gives them a first overview of the platform, which will orientate them about the most important things after the death of a relative. After the death has been announced, the legacy contact is given access to additional information. Sensitive information is only released by the platform after the death certificate has been accepted.
The user is in the focus, no matter if they are giving instructions or receiving them after someone's death. A sensitive, emotional topic that makes life after death for everyone a little easier.