Houston is integrated into the TPF ecosystem. The application is installed on 250 smartphones and centrally controlled using Android Enterprise. Houston is linked to equipment that is already on the bus, such as the microphone and speakers.
What is Houston Connect?
An innovative communication system in the form of web and mobile applications for the transport industry. Thanks to internet telephony (Voice over IP), these applications enable ideal communications between the drivers and the operations centre. The applications are compliant with the Road Traffic Act.
Houston Connect is an alternative to traditional radio networks because it enables targeted communications with outstanding call quality. Houston Connect represents the new generation of communication systems, incorporating Voice over IP (VoIP) technology.
Houston Connect enables the communication between mobile operational support users, drivers, and the staff in the operations centre.
Its GPS function means that each vehicle's location is known at all times. The vehicles are equipped with geolocation, smartphones, and Houston connect,bringing transport into the world of the Internet of Things.
Replace your radio system with the Houston Connect VoIP communication system
Speaking is the quickest way of conveying information. The Houston Connect app makes this possible at all times, with excellent audio quality. Houston Connect securely connects users across a wide geographical range who are not in a fixed location – such as bus drivers. The application is easy to use in all circumstances.
Excellent audio quality and flexible configuration
The system benefits firstly from call quality that meets the current standards of Swiss mobile telephony, and secondly from our expertise in vehicle audio systems. Houston Connect is tailored to your internal organisation, using planning data from your existing management system. Operators in the control centre can also create temporary communication groups, enabling them to respond to unforeseen circumstances.
Using existing infrastructure
Houston Connect uses the existing infrastructure of the Swiss telephone provider of your choice and thus benefits from its high-quality network coverage when transmitting communications.
Easy to maintain
Houston Connect can be deployed quickly within your organisation. We continuously improve the software so that your applications are always up to date.
Intuitive use and targeted communications
Houston Connect is easy to navigate via the mobile app and was developed to be used by bus drivers while out and about. Selecting the person or group of people who should receive your message is quick and easy.
Vehicle geolocation
Every mobile user is visible on the control centre's map in real time thanks to geolocation.
High returns from the Swiss solution
Houston Connect was developed in Switzerland. You only pay for the number of users and volume of communications that your organisation actually needs.
What functionality does Houston Connect offer?
Houston Connect uses internet telephony (Voice over IP) to enable communication between different types of users: the operations centre, mobile staff such as bus drivers and operational support users. You can find out more in the blog post about the product, but here are the main functions of the Houston Connect system: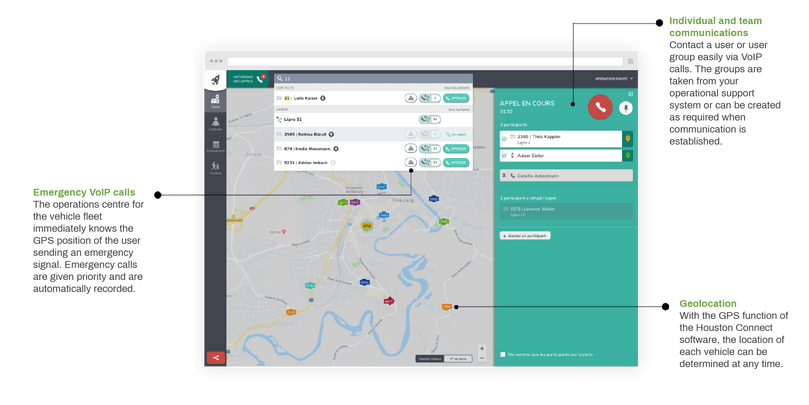 Who can benefit from Housten Connect?
The Houston Connect communications centre is ideal for companies in the transport sector, such as bus or rail transport companies and businesses operating truck or taxi fleets. Houston Connect uses your operational and geolocation information to improve your communications via internet telephony (VoIP).