We are all faced with challenges that we have to overcome. However, for us, this has once again been a proof of concept for self-organisation: taking prompt, pragmatic action and a solution-oriented approach. We have been working on customer projects – as well as launching some of our own – offering ad-hoc solutions and assistance in these exceptional circumstances.
Onschool – the digital classroom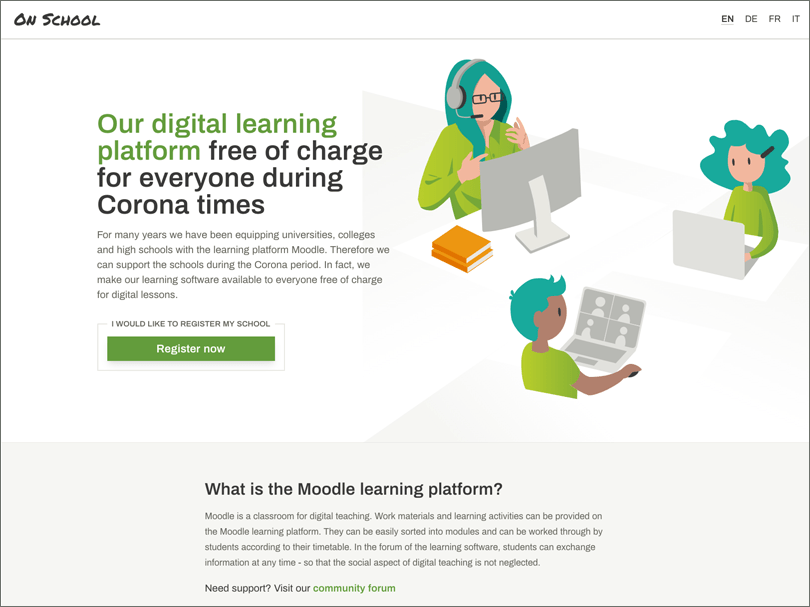 On the weekend of 14/03/2020, a day after school closures were announced, people in various roles joined forces to establish a platform for digital classrooms – onschool.ch. Being an official Moodle partner in Switzerland, we already had the infrastructure of the Moodle learning platform Allowing us to provide schools with learning software very quickly, made available for free until the end of the current school year. The website went live on the Monday, and a week later nearly 200 schools had registered. onschool is supported by hosting provider Infomaniak in Geneva and Oriente.net in Basel. Liip is continuing to develop and expand the platform and helping schools with the set-up process.
The FOPH website – the number one source of COVID-19 information
At the same time, another small project with a short-term (and now defunct) impact was put into practice. The FOPH website had been rendered inaccessible by too many people trying to access it at once, so one of our developers promptly mirrored the page and made it fast and stable using rokka infrastructure. The legal considerations were set aside; the focus was on supporting the community. We apologise to the FOPH if we should have done this differently.
AMIGOS – shopping for high-risk groups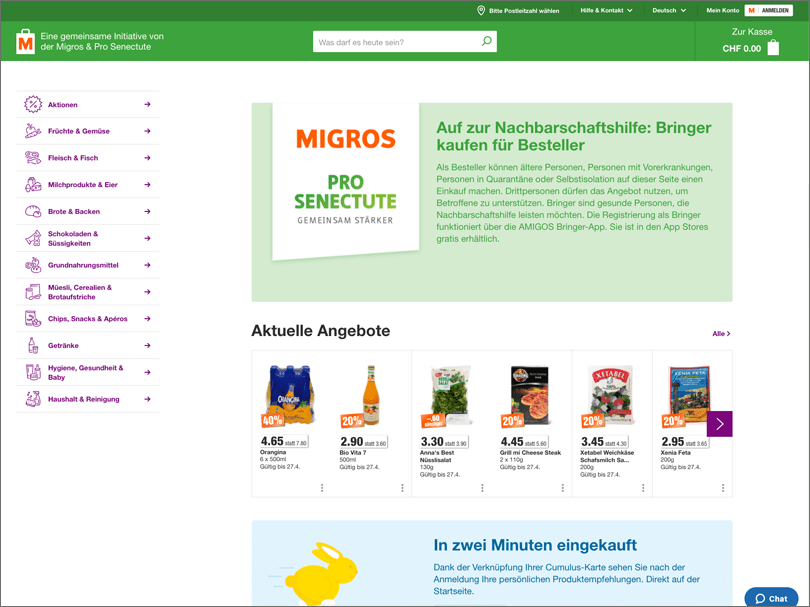 A week later, AMIGOS was resurrected by Migros and Pro Senectute. This platform provides neighbourly assistance, for people that are unable to go shopping themselves. In particular for the elderly, people with underlying conditions or people who are currently in quarantine or self-isolation. Affected people can use www.amigos.ch to order products that are then delivered to their homes by volunteers and Migros employees.
The Amigos app already existed and the necessary IT infrastructure wasready and available. Liip worked with dreipol in 2019 to develop the platform for Migros. We discussed the 'resurrection' with Migros – all those involved wanted to help high-risk groups in the current situation. After reviewing various options and holding internal discussions at Migros, it was decided that the platform would temporarily be put back into operation.
Digital progress in the era of COVID-19
The projects listed are examples of what digital progress looks like in times of COVID-19. The Heraclitus quote that 'change is the only constant in life' should be taken literally: it takes spontaneity, flexibility, agility, bright ideas, and new solutions to react to the current situation. Thanks to our organisational structure and culture, built on change and personal initiative, we feel that we can meet the current challenges. We are experiencing digital progress!
We are proud of our customers, who have the imagination and courage to identify and explore new horizons. We are grateful for their show of trust by choosing to develop their projects with us! And, of course, we are also proud of our Liipers, who are always raring to go with their lateral and out-of-the-box thinking. They are continuously 'trying things out' (even in their free time) to provide valuable support and solutions for our customers and the community.