2022, what a year! A few months after Liip's 15-year anniversary, it was Liip Lausanne's turn to reach the symbolic double-figure mark. Like Liip itself, Lausanne had humble beginnings followed by impressive growth. From three Liipers in a small shared office in 2011, we now have 45 Liipers in Lausanne, occupying larger office premises, of course. Although still with a terrace overlooking the lake!
The story began with an accidental meeting, or rather a reunion. One day, Jonas Vonlanthen crossed paths again with an old study buddy from the University of Fribourg, Hannes Gassert. Hannes had co-founded a web agency focusing primarily on Zurich, which already had around 20 Liipers. So why not set up a structure in French-speaking Switzerland to continue this development? This story would become Liip Lausanne, rather than Geneva.
Celebrating 10 years and the opportunity to meet up 'in real life'
To celebrate this milestone as it should be, we invited our clients, partners and Liipers (as well as ex-Liipers) from all over Switzerland. A total of more than 200 guests came to Espace Amaretto for the occasion. This included more than 90 clients who gave us the pleasure of their presence and some that have been working with us since the beginning! So this celebration also belonged to them.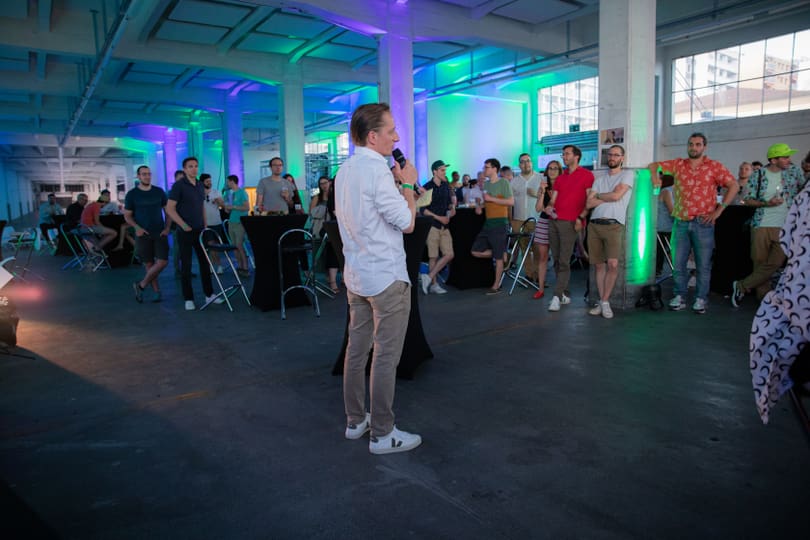 The programme included performances and a DJ set, a food truck just for us, and refreshing drinks. Without long speeches – that's not really the Liipway. The most important thing was to enjoy this opportunity to meet up 'in real life', which has been very difficult in recent years. In fact, the anniversary should have been celebrated at the end of 2021, but COVID forced us to delay the invitations. However, the fantastic weather made up for the wait!
Looking back to ensure a fresh start
10 years? How time flies. We didn't even notice. But taking this opportunity to look back, we can see how much the world has changed! At the time, Liip was made up entirely of developers, with UX and Design being merely options. Things are definitely different now, and our range of services and skills has expanded. The common thread uniting them all is agility, which has been and remains our most powerful ally. We were one of the first companies in Switzerland to adopt this agile approach, and we have no plans to give it up – quite the opposite!