Note: this detailed blog post is intended to summarise of Liip's approach to sustainability, as well as a reference text and outlook of how we will measure sustainability at Liip in the future.
Uniting the environmental, social and economic aspects of sustainability has always been a key objective for us. This is why sustainability can also be found in Liip's statement of purpose: We want to create long-lasting social, environmental and economic value, by striving for digital, human progress.
We look at sustainability from two angles: HOW we work and WHAT we work on. The HOW we can largely influence ourselves. The WHAT, i.e. what impact our clients' projects will have in terms of sustainability, is more difficult. This is what we are focusing on in 2021, and we are taking a systematic approach to the issue.
HOW – Liip's internal assessment
The environmental aspect
To keep track of our ecological footprint, we have been working with myclimate to record and offset our CO2 emissions ever since the foundation of Liip. This means that Liip is a climate-neutral company according to myclimate's standards. For the first few years, we relied on the average values for Switzerland for various areas as we did not have enough data of our own. We have since been able to collect more precise data, and it is now much easier to make an individual assessment. The simplest performance indicator from this data: 1 is better than 3! In 2019, one full-time Liip employee generated around one tonne of CO2 ─ around three times less than the Swiss average. Check out our myclimate CO2 record (in German).
Heating
By far the most significant contributing factor to our CO2 emissions is heating our offices, which cover over 3000m2 across six locations. Over half of our CO2 emissions (53% or more than 80 tonnes in 2019) are linked to our heating systems. Our office in Fribourg is still heated using oil, our Zurich office with gas and our other offices with district heating. Even if, for example, we arranged to replace the windows in Fribourg and change from oil heating to district heating as soon as this becomes available in Fribourg city centre, the influence tenants have on emissions is limited. Communication with the owners of the property is therefore the deciding factor in reducing CO2 emissions from heating.
Commuting
Commuting to and from work is also a major contributing factor to the ecological footprint of the entire economy. Here at Liip, we encourage our employees to use public transport or a means of human-powered transport, enable them to work from home and make sure we have our offices in central locations with good public transport connections. Liip does not provide any parking, choosing instead to sacrifice this space and put it to an alternative use. For example, some years ago, we turned two parking spots at our Zurich into an outdoor seating area, a space we could no longer do without.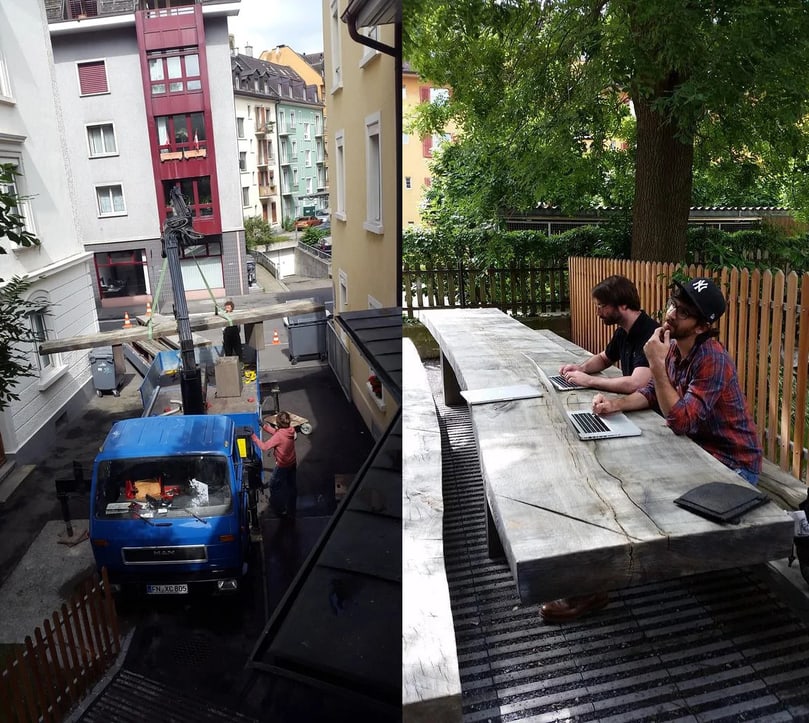 Liip also covers the cost of a Swiss Half Fare Card for all of its employees. Liip has partially subsidised the Liipers' bicycles on several occasions. As a result of all these measures, the vast majority of our employees travel to work by public transport, by bike or on foot, as was shown in surveys conducted in 2017 and 2021. Compared to the Swiss average, Liip produces five times fewer emissions when it comes to commuting. Expressed as CO2 equivalents, this means emissions from this activity amounted to just 22% of our total emissions or 33.3 tonnes of CO2 in 2019.
Business travel
Let's start with the big one: Liip does not pay for any flights. Full stop. For our business, international travel is rarely necessary. However, Liip does pay for long train journeys and accommodation for employees attending training courses abroad. For business travel within Switzerland, we almost exclusively use public transport. The SBB business app makes assessing and calculating the environmental impact of all journeys extremely easy.
We have also fitted all of our meeting rooms with high-quality video conferencing equipment, which helps to to reduce the amount of business travel required substantially. In 2019, 8.5% of our CO2 emissions – that's 12.9 tonnes – came from business travel.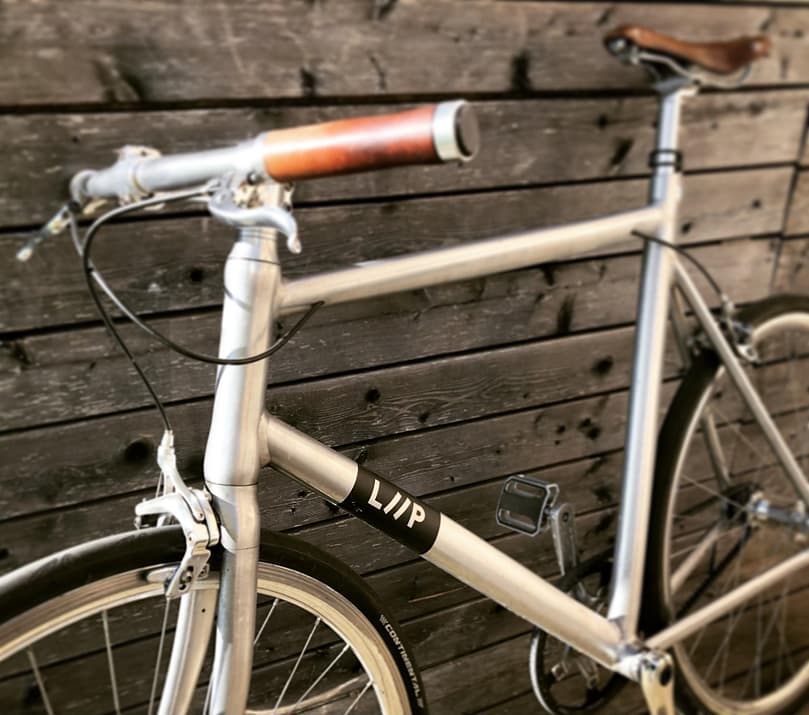 Electricity
Sourcing clean electricity is really easy. Today, there are numerous clean energy options available. Liip chooses the greenest source for its electricity at each of its offices. Exept for two offices (where the sources chosen were previously considered green but now are no longer rated as 'green enough'), our CO2 emissions for our electricity needs were near zero in 2018, coming in at just 0.5% of total emissions or 1.1 tonnes. Including the two outliers mentioned, the emissions from our electricity consumption for 2019 amounted to 4% of our total emissions or 6.3 tonnes of CO2.
Electronic devices
With a bring-your-own-device (BYOD) strategy, we can keep laptop purchases ─ essentially the only hardware needed for testing apart from mobile devices ─ to a minimum. Liipers get a subsidy paid to them for using their private devices for work. This enables us to avoid expending precious resources on hardware that is not used. In 2019, our hardware purchases accounted for 8.8 tonnes of CO2, 17% of our total carbon footprint.
Catering
Liip provides its employees with free coffee, tea and other drinks. There is also a selection of fresh fruit available at allf our offices. Coffee, in particular, represents a substantial proportion of Liip's resource consumption. Catering was responsible for 5.6 tonnes of CO2 or 4% of our total emissions in 2019.
Paper and printed materials
After years of being guided by average values for Switzerland, in 2019 we decided we wanted to have a more accurate picture here. We thought the average was extremely high: while the average for this category in 2019 was the equivalent of 6.2 tonnes of CO2, it accounted for just 0.5% of our total emissions or 0.9 tonnes! Paper is a surprisingly significant contributor to emissions. Liip can therefore justly claim that it uses very little paper compared to the national average.
Offsetting emissions
We try to keep our CO2 emissions and general resource consumption as low as possible, and we are very successful with this endeavour. We offset the emissions that cannot be avoided by buying certificates from myclimate. We always buy 50% domestic certificates and 50% international certificates.
Hosting for ourselves and our clients
Our hosting partners, oriented.net and nine.ch, work with us on many client projects and host our servers, and they also use green electricity to run their data centres.
Potential for improvement
The areas that are not really on our radar yet are internet usage and the various Software-as-a-Service products such as chat software, Wiki and other tools. Employees' use of smartphones is also not taken into consideration in our analysis. Liip leaves it to its employees to organise their own internet connection and smartphone, but does pay them a fixed amount for this.
The social aspect
When we talk about social sustainability, we mean everything that contributes to the well-being and development of our employees, social cohesion and their private environment. For us, the key element here is having self-determination at work.
Self-organisation
Liip is self-organised, using Holacracy as an organsiational structure. Liip has, not had a management team since 2016, and has transferred its power to the Hoalcracy constitution. This means that operational power at Liip has been completely decentralised and divided up among all employees according to their individual needs and skills. Self-determination is a major contributor to job satisfaction.
Flexible working hours
Liipers decide for themselves when and where they want to work. Employees are trusted to enter their working hours in the time tracking system themselves. Every hour they work is either financially remunerated or compensted in the case of overtime.
Part-time work
Liipers can adjust their level of employment on a quarterly basis. As a result, more than half of our employees work part-time ─ and that applies to both men and women in equal measure. At Liip, there is therefore no longer any discernible difference between the sexes in this respect. This is particularly impressive as, on average, less than 20% of men work part-time in Switzerland while more than 60% of women work part-time.
Paternity and maternity leave
Ever since Liip was founded, we offered four weeks' fully paid paternity leave, and this has been made use of 80 times over the past 13 years To ensure everyone is treated equally, Liip extended its maternity leave by an amount of time roughly equal to the cost of this paternity leave. What measures Liip will take now following the positive result of the referendum on having statutory two-week paternity leave in Switzerland from 2021 are not yet clear.
Unpaid leave
Liip offers its employees the opportunity to take unpaid leave. Once you have been at the company for a year, you can take up to six months of leave with total job security.
Salary model and transparency
The self-determination-based organisation model makes any differences in salary negligible. The difference between the lowest and highest salary is a factor of 2.5, and this includes all bonuses. A bonus ─ usually an extra month's salary ─ is given to everyone provided the business is doing well. And if it is not doing well, then nobody gets a bonus. The salary model and individual job levels are transparent for all employees.
Shared ownership
Liipers who want to own shares in the company can join a shareholders' pool. The shares are traded once a year, and you can only own shares as a Liip employee. Currently, just under half of the employees are shareholders. The company is therefore solely owned by its employees.
Pensions
Liip works with Nest, one of the most experienced pension funds when it comes to sustainability. Employees' pension contributions are put into sustainable investments.
Massages and other perks
Massages, sporting activities and community events: Liip is actively involved at all of its offices in a various ways.
Events are often held at Liip's premises for the exchange of ideas with communities
Awards
Liip has repeatedly received awards for its forward-thinking working conditions. Its accolades include being named the most family-friendly company in Switzerland with the Family Score Award by Pro-Familia, and being named the best SME employer in western Switzerland by Bilan magazine.
Potential for improvement
As a result of having a self-organisation model, Liip is can not offer traditional careers and the recognition that comes with them via the usual metrics such as having managerial responsibility (for example, head of a 10-person team). Offering recognition in a self-organised environment, where you cannot show it in a paternalistic manner, is a challenge we are currently working on.
The economic aspect
We see economic sustainability as everything that enables our clients and us to be independent, flexible and focused on the long term when it comes to digital impact.
The full spectrum of Liip's skills can be seen on the Business Capability Map below.
Awards
Awards are a nice, yet not particularly reliable, indicator of our skills. Since its foundation, Liip has taken part in the Best Of Swiss Web awards and has won numerous awards, especially in the categories innovation and public value.
Open source, open standards, open everything
Liip has always promoted open source and open standards, so that every line of code written has the maximum impact. However, not all code is released under an open-source licence, as the work behind publishing code and its long-term maintenance should not be underestimated. Nevertheless, Liip is one of the biggest contributors to open source in Switzerland, according to the OSS Benchmark.
No vendor lock-in
Liip's contract model is, on the one hand, based on agile, iterative project implementation and continuous delivery, and on the other hand, built on the principle that unrestricted rights of use are granted on both sides. This gives clients the security of using all intermediate outputs and the whole product at any time. This also drives Liip to deliver successive components that have the potential to be implemented productively following every sprint.
Finances
Since its founding, Liip has been in the black and had the necessary reserves to survive difficult times. We publish our turnover in Netzwoche's digital ranking every year.
Potential for improvement
In addition to the financial metrics, we currently lack the data that would make the economic side of sustainability easy to measure.
WHAT
Measuring and influencing the impact our projects have regarding sustainability is challenging. This is partly because it is difficult to draw system boundaries, and we are involved in a lot of different sectors as a link in our clients' supply chain.
For the sake of simplicity, our approach ever since has been to apply exclusion criteria to the issue. This approach makes projects connected to oil, arms and nuclear power stations – to name a few examples – a no-go. With cases that are less clear cut, an ethics committee can be convened to assess the case. Their recommendations are primarily made based on previous decisions. The final decision, however, remains with the team that would run the project. But more often than not, the team chooses to follow the recommendations made. In some cases, the team decides to decline a project even when the committee has given it the green light.
A systematically sustainable future
In 2021, we will focus more on measuring the impact of our projects We are being guided by the UN's Sustainable Development Goals (SDGs). We aim is to offer our clients added value, the likes of which is yet to be seen in our industry. In its role as a digital agency, Liip supports your project by providing state-of-the-art, user-oriented web and mobile software development and making it more sustainable. Stay tuned!