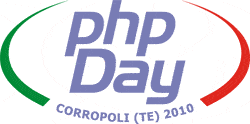 More than any year this May is packed with exciting web conferences all around Europe and this year's Italian phpDay conference promises to be one of them. From May 13th to 15th the Italian PHP user group (GrUSP) will host the phpDay conference in the lovely town of Corropoli on the adriatic coast.
The current edition of the phpDay focuses on quality assurance and is dedicated to help developers and innovators to write great code that is produced by motivated teams backed by a supporting management and delivered as a superb product.
In this spirit is also the talk I will have the honor to present, which is on quality assurance in project management of medium and large size web projects. The talk will be about the typical indicators of projects that surpass a certain volume and will discuss how to handle emerging size and scope related situations and problems. The main focus will be on how to handle and evaluate projects with big customers and I will address the most common fatal mistakes in the estimation and evaluation process and point out why controlling is important and suggest strategies on how controlling can be enforced in an easy, painless and non-beaurocratic way.
Besides looking forward to giving the talk I am also excited about meeting some great speakers. Kore Nordman (on Arbit and CouchDB), Fabien Potencier (on dependency injection), Ewen Fortune (on MySQL performance optimization), Felix de Vliegher (on Gearman) or Jacopo Romei (on total quality) only to name a few.
Be prepared for three exciting and mind expanding days: the italian phpDay. May 13th to 15th Corropoli, Italy.