_

_
Lift Basel, taking place from 29-30 October 2015, the not-to-be-missed conference connecting Life Sciences and Technology, had one clear message: It is time to innovate and think differently for all stakeholders in order to address the future of health.
The Conference's Programme and Aim
Basel has a long standing tradition of the pharmaceutical industry. Not only in Switzerland, but Europe wide. So, no coincidence that the Lift Conference on Life Sciences and Technology (2nd edition) takes place in this great city.
It is a conference where entrepreneurs, innovators and long standing business connoisseurs meet to discuss the new developments, get to know new start ups, brainstorm on innovative solutions of current challenges.
Thanks very much to the organizers of this conference. It was highly fascinating and a new edition is mandatory. The networking and exchange of ideas was inspiring!
This year's program covered topics such as: food, surgery, open data, synthetic biology, relation of doctors & patients, and ageing. Speakers came from all sorts of institutions: academia, cantonal hospitals, start ups from all over the world.
BUT: Why are our big pharmaceutical industries not among the innovators?
Astonishingly, the big absentees in the speakers' list were the major pharmaceutical industries of Basel (Roche, Novartis, Actelion). While some of their representatives did attend the conference, only one of them (Novozymes) contributed to the talks (and by the way, congratulations. Novozymes approach of citizen science was really inspiring).
It is widely acknowledged that any company neglecting today's development of technologies and not introducing it into their business, may risk its own future.
So, why are our biggest pharmaceutical industries not contributing to a conference where a big part of their future is discussed? Do they have nothing to show? What is it that keeps them from being big players at the conjunction of life sciences and technology in the future?
Reasons for their absence
The reasons why the big players are not among the innovators are manyfold. Here a few which I see as crucial.
1. Hierarchies:
Many pharmaceutical and major FMCG companies have become immensely big; often worldwide. In order to organize themselves they have built up complicated decision processes and very steep hierarchies. Salaries and bonuses are attached to these hierarchies. But hierarchies and decisions that take long kill innovation. As we know from the Lean Startup (Eric Ries), innovation and great ideas need more freedom. They need cross functional teams, integration of end-users, a "the more you fail, the more we learn"-culture and a strategic openness to exchange with other inventors. But in a stiff hierarchy with secrecy perceived as competitive advantage, there are very few incentives to innovation. People at lower levels have a lot of expertise and often great ideas, but they do not find valuable reasons why they should share it. For example: "Why should I mention my great idea if then my boss goes advertise it and gets all the bonus for it?" Or: "Why should I even do that? I risk of exposing myself and maybe even getting more work."
2. Fear of cannibalization
What if there is an invention within the company that actually competes with an already existing cash cow? The cash cow may see its end of life coming at a very far horizon, but still it is a cash cow and the ROI is not reached yet. In this case, it takes a lot of courage for people within a company to defend the new product that could cannibalize that cash cow. I assume most people do not dare to do so. The short term profit of milking the cash cow is much easier than advocating for a new idea, that may be only at prototype level and with long term – and thus only probable – profit.
And what is the lesson out of this fear?
Some companies learn and try to solve the problem via spin-offs or clearly separated innovation teams that have different rights within a company.
Others haven't learnt and lost market share because in the meanwhile start-ups built these innovative products. dollarshave.com took 10% of the US market share within a year. I assume a development that for example Gillette did take note of and feel.
3. Improve vs. innovate
Developments in academia, start-ups and product development methodologies have shown one important development: innovations are a result of cooperation among an inter-disciplinary, cross-functional team. Many workshops, including the one from Liip, built upon one of these methodologies called "Design Thinking" where inter-disciplinarity and empathizing with the end-consumer is core to any good product.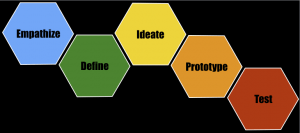 Design Thinking Methodology – Used for Innovating @Liip
Today's world can just not be captured anymore by one single discipline. One single discipline, by nature of its work, only has the goal to improve a product in order to squeeze an already existing market. But inter-disciplinary innovations, they make combinations of expertise not seen so far and finally address markets that do not exist yet. Naturally, these yet to be built markets have much more potential.
As we have seen in the conference, the combination of life sciences and technology is such a combination. So far it is a combination that only start-ups make (with a few exceptions like Novozymes). Big players in these industries finally should understand that they have to change their thinking. They have to be willing to invest into cooperation with other fields, to observe their end-consumers, to stop the secrecy about their ideas and to admit that improvement of products only is not sustainable with a long-term view of a digitalized world.
(By the way – just for those that now mention the harsh legal conditions of the pharmaceutical industry: In many cases, these products do not have to go through a tough licensing procedure since the regulations have not even been created yet.)
Wake up and change
Marcel Salathé, PhD, held the closing speech. Having studied and worked at ETH and Stanford and now being appointed at EPFL, he incorporates the combination of informatics and life sciences. And he has told all participants very frankly: Europe needs to watch out. Most ground-breaking digital innovations today come from the United States and they are taking over the world. They do not care about legal conditions (see Uber or Airbnb) but rather innovate and then negotiate with stakeholders.
So, summarizing this conference, we should take away the following: If Europe does not want to become a dust bin of formerly successful health corporations, we need to build a soil of innovation through technology by being demanding towards ourselves, asking for the best, exchange knowledge, share learnings and change company cultures.
Build the life sciences hub – NOW!
And, consequently, this is a recommendation sent out to our big pharmaceutical companies with HQs in Basel. Even though you might feel very sure in your market position, let me say this: the innovation curve between life sciences and technology has just started and is now at its exponential take off. You need to take this serious, critically put yourself into question and decide very quickly how you want to contribute in order to hop on. Get together with technological partners and make a culture shift. In short: Convince yourself to move forward NOW and start building the Life Sciences Hub in Europe.