Well, lucky you, I know a place where people are employees on Friday and entrepreneurs on Sunday. Embark on the journey, it's going to be a lot of fun (and pleasure)!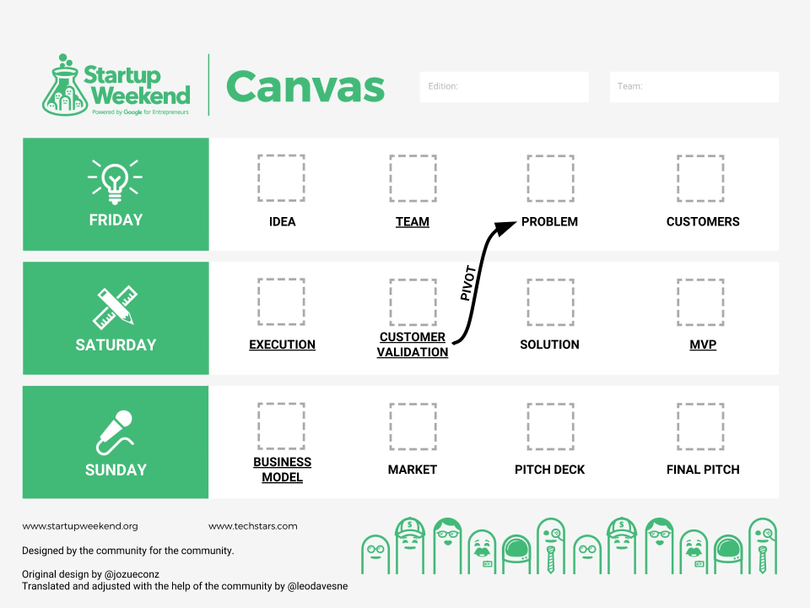 ENLARGE YOUR IDEA
Everything begins with an eager desire [PROBLEM]. Shared with others, it expands throughout the people believing in it.
While pitching, you clarify your thoughts and share your passion for it, which, by contagion, infects others [ONE MINUTE PITCH].
GREAT TEAMMATE(S)
And because it's always better with other people, you share energy with your teammates, gather together when it's hard, do high-fives to relaunch after the low moments [TEAM].
You take tough decisions together and you accept them whatever they are, committed to be a great partner at any moment.
JUST DO IT
No one will tell you what to do there. You are free to stay or go, and also to say "no" too!
You are bold and do things you've never done [EXECUTION]. And it feels amazing.
Organizers and coaches are here to support you. They won't tell you what or how to do things, they will just ask questions and help you reflecting. And it will be your decisions to take, and later to deal with the consequences.
Most of the time, they will just tell you to continue. Don't worry, they keep you covered!
GET THE F*** OUT OF HERE
But the idea itself is just an idea for you, so you go out and search for people who would be ready to pay for it [CUSTOMER VALIDATION]. You don't need to give them back your service right away, fake it until you make it they say [BUSINESS MODEL]!
You may need to change position at a moment [PIVOT]. Then, just continue!
At the very end, you wrap it up to present it to the world [FINAL PITCH].
Later, you look back and realize how much you grew, the new person you became in just a matter of hours. Inside of you something changed, and it cannot be removed. Congrats, you became an entrepreneur!
Startup Weekend Zürich, next edition on November 2nd, 2018.
Photograph by Jürg Stuker. Startup Weekend Canvas: original by Jozué Morales, translated in English and adjusted with the help of the community by Léo Davesne.
Another post about this fantastic week-end on Namics' blog.