With their media invitation, young entrepreneurs and start-up founders underline the importance of the Climate Protection and Innovation Act for the local economy and the future of Switzerland as a business location. A "yes" vote at the ballot box on 18 June will create the urgently needed binding nature of the Swiss net zero CO2 target. Equipped with this legal certainty, companies will be able to commit themselves wholeheartedly to this task of the century and create local added value.
The vote on 18 June on the Climate Protection and Innovation Act is the subject of intense debate. However, we hear relatively little from entrepreneurs in the start-up world. Yet this law, which concerns climate protection and the promotion of innovation, is of crucial importance to them. Young entrepreneurs and start-up founders from the Fribourg region have joined forces in an ad hoc group to campaign for a YES to the law. Start-ups whose innovations offer solutions to environmental challenges and in the transition to a sustainable circular economy are essential.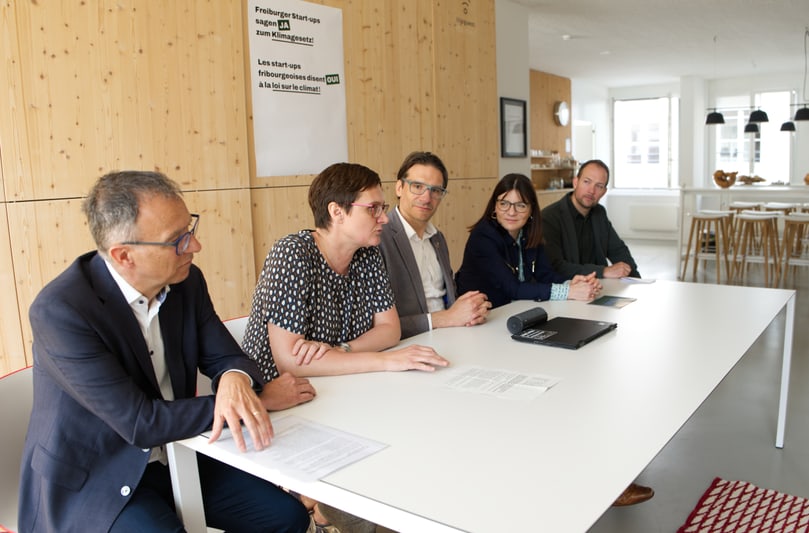 In the construction sector, for example, as Agnes Petit, founder of Mobbot, the innovative concrete printing robot, rightly points out: "The law provides an incentive for the construction sector, which is the biggest emitter of CO2, to innovate and develop a competitive edge".
"Climate must be the foundation of all our actions, whether private, professional or political", says young entrepreneur Alexis Balimann, whose company delivers an organic basket of fruit and vegetables from the region.
"This law, with its incentive component, motivates businesses and individuals to take up the problem and tackle it together. It allows us to respond through innovation and action, rather than constraint and defeatism", emphasises Oliver Price, founder of Local Impact, which is committed to a local and circular economy.
Nathalie Bourquenoud, founder of Oxadi, a consultancy firm specialising in organisational transformation, is convinced that "companies must dare to initiate a process of exnovation-innovation and develop their culture and organisation if they are to guarantee their success in the future. The binding nature of the Climate Act is the right impetus to achieve this."
We "entrepreneurs say YES, because the law brings added value to Switzerland!" adds investor and serial entrepreneur Thomas Rauber.
And this is how I put it at the press conference: "We entrepreneurs are looking to the future, and we hope that on 18 June the people will come out clearly in favour of climate protection".
Following our "we over me" principle,as Liip it is important to us to support this Climate bill without making it a PR stunt and "I" thing. As many other entrepreneurs of start-ups or established companies, in Fribourg and anywhere else in Switzerland, we are totally in support of this much needed Climate bill. All in all, this position is quite natural if we may, given our focus on sustainability in general, and our active support for the Glacier Initiative which lead to this Climate Protection and Innovation Act.