The website Ecorating.ch measures the voting records of members of the National Council and the Council of States on environmental matters. Politicians can even create a profile and record their election promises. The profile is activated once it has been reviewed by Ecorating. Actual voting behaviour is assessed by a team of experts. Promises and actions are thus documented, transparently showing which promises politicians are actually keeping.
Making politics fun
Politics is often rather dry and hard to digest. However, Ecorating is fun to use: you have the entertaining option of using filters to create various different views. This helps to get even political grumps enthusiastic about the topic of the environment. To promote a dialogue with politicians, all of their social media contact details are listed.
A strong message in a compact space
The politician's scorecard – a coloured circle around their profile picture – offers a compact, visible way of showcasing the outcome of all voting results of the relevant voting group for members of the National Council and the Council of States.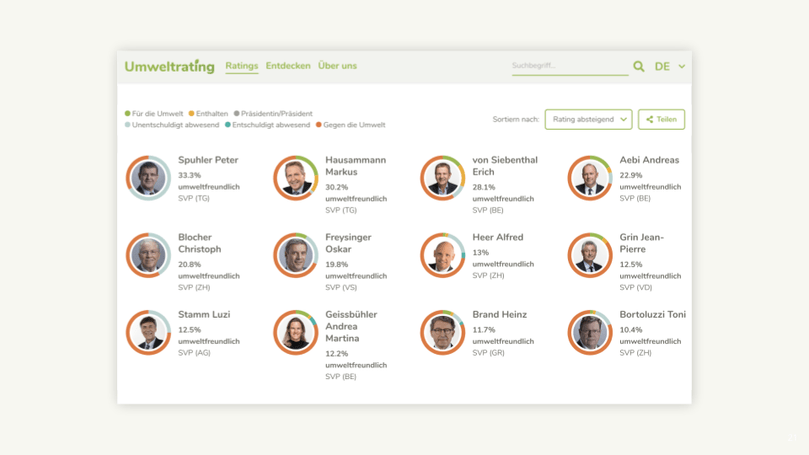 Branding in politics
A fresh visual identity was created. The branding is friendly and welcoming, but also kept simple. The innovative interaction concept is unique in its application. The message is conveyed via innovative design ideas that match the brand and the task at hand.
Capable and convincing
The well-known environmental organisations behind this solution are presented prominently but modestly on the home page. This demonstrates the platform's independence. In keeping with the style of these environmental organisations, the brand is also constructed simply and independently of its contributors – it is reliable, independent yet also fun. The parliament's open-data interface, a neutral and reliable source, is used as the basis for evaluations.