How can electricity consumers be informed in a timely manner?
Because of the energy transition, the risk of power cuts is likely to remain high in the coming years. The 600+ Swiss electricity suppliers currently inform their consumers by letter, via their website, their customer portal or their hotline. For unexpected outages, it is up to consumers to know the local utility company and search for information.
In addition, in the event of an acute power shortage, it would be difficult to inform the entire population about load shedding in time and precisely enough.
This is why, last autumn, Opendata.ch's "Energy Data" working group launched the "Plan E" project. The goal was Switzerland-wide information to consumers about planned "load shedding" outages in the event of a shortage.
First iteration: a sketch for early feedback
The inspiration for "Plan E" is the MeteoSwiss app, which issues severe weather warnings and lets users follow weather developments throughout Switzerland in real-time.
Our first idea is to inform electricity consumers of upcoming shutdowns at their location on a mobile app, via push notifications. A mobile device brings the advantage that information can remain stored in the device even in the event of an internet failure, as long as it is sufficiently charged.
A rough sketch and a few slides are all it took to gather feedback from a wide circle of industry professionals. They helped us identify the greatest risks in terms of feasibility, usability and viability at an early stage.
Philipp Ditzel, Head of Digitalisation and IT at St.Galler Stadtwerke says: "Our biggest challenge is consolidating data from 70+ different sources with heterogeneous formats and varying levels of detail. Our goal is to keep the additional effort for grid operators to update data in the event of a crisis as low as possible, as they will be particularly challenged operationally in this situation."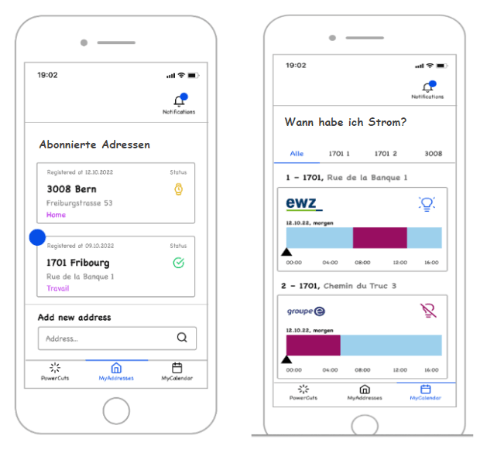 Second iteration: a Design Sprint week from problem to prototype
The support of VSE/AES (the Association of Swiss Electricity Companies) and Swiss Smart Cities enabled us to bring together a team for an intensive Design Sprint, through their "Innovation Booster" programme
Over four days, industry experts, IT specialists, and a researcher collaborated intensively to progress from problem understanding to a prototype.
Design Sprints are inspired by Design Thinking as well as agile methods; they are structured according to 6 phases:
1) Understand: The team delved into the complexities through discussions with industry experts and sample data provided by six utilities.
2) Define: We chose a focus open enough to allow for different solution paths: How might we make it possible to query all load shedding plans centrally, while minimising data input effort for the distribution grid operators?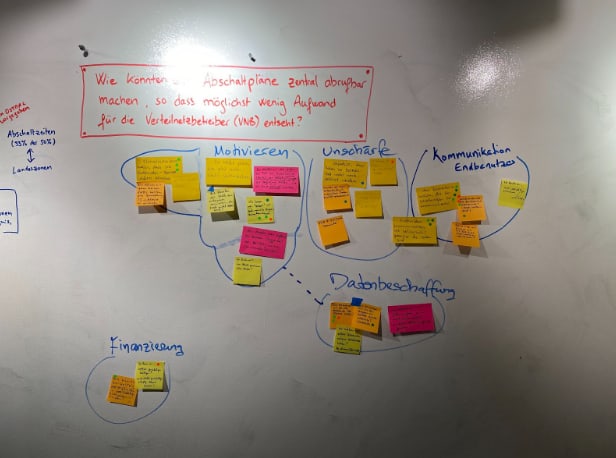 3) Diverge: We ended the first day with a visual brainstorming session and refined some ideas after iterative feedback rounds.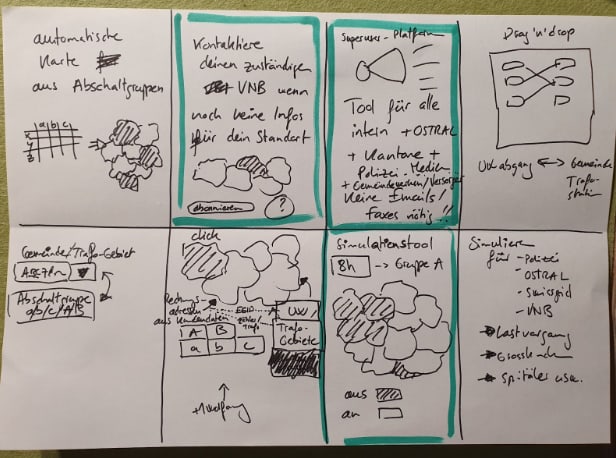 4) Decide: Two possible solutions emerged to extract information for a specific building from load shedding plans, so two groups formed accordingly. We also want to experiment with possible visualisations for customers, as these influence the data requirements.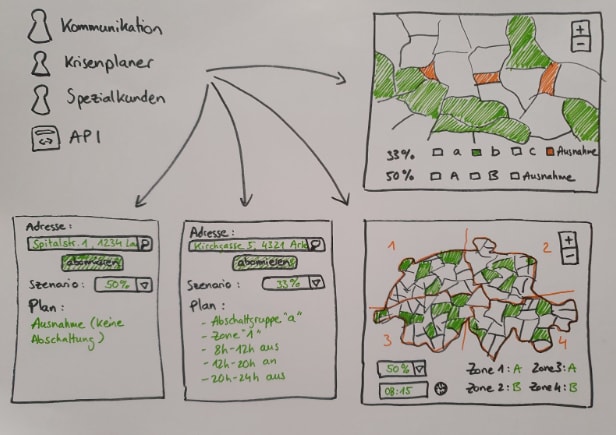 5) Prototype: Towards the end of day 2 and on day 3, we moved into the prototyping phase. We experimented with data modeling and open geodata to enrich the load-shedding plan data. We also created two click prototypes that simulate the app's interface. In addition, an SMS information service prototype demonstrated how several information channels could be fed from the same database.

6) Test: On the fourth day, we tested our prototypes with the grid operators of the various companies who had contributed sample data sets. Their feedback confirmed that we could already achieve considerable accuracy with simple means. But it also provided valuable information on special cases that still need to be solved. Interestingly, two further use cases emerged: as a tool for crisis planning and as a data hub for customer information in case of power outages in "normal times".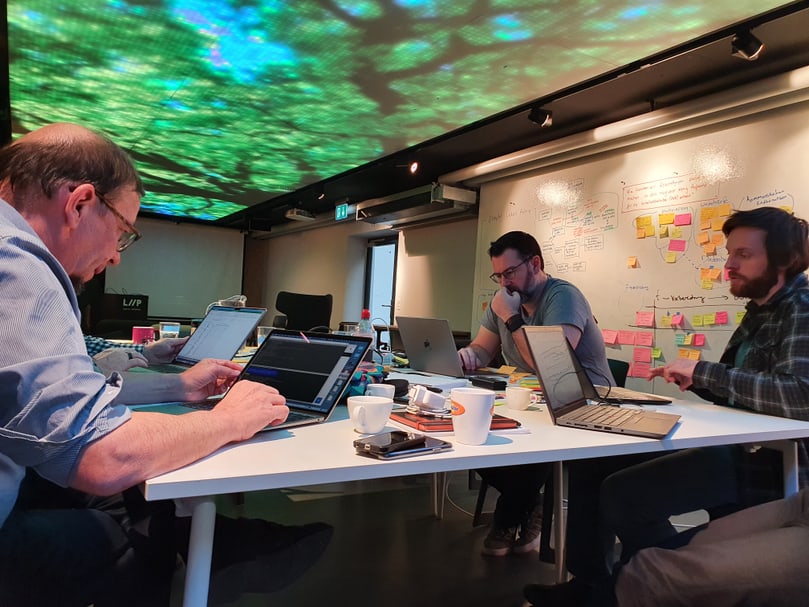 Third Iteration: Pitching and MVP Definition
By the end of the Design Sprint, we had the necessary elements to raise funds for implementation in a series of pitches. We tested two pitch variants for our so-called "Minimum Viable Product": an MVP is the simplest possible version of an application that already generates added value for its users.
The VSE/AES and, so far, 11 co-financing utilities decided to join forces to develop a first application focused on the needs of authorities and multi-site companies. These actors must now prepare for a possible shortage situation, and an overview across individual grid areas is particularly important.
By bringing together grid-related data from all industry players, we are creating a valuable basis for further services in the future, such as informing electricity consumers about all types of power outages.
For everyone involved, it was very inspiring to get a joint project off the ground in just a few months and across many organisations. Nicola Ruch, business developer at AEW Energie AG, points out: "This is a great example of how innovation works, in small iterative steps whereby an idea is revised until it becomes a plan that works. Agile project management methods help us to prioritise our limited resources and develop a solution as close to client's needs as possible. It feels like a start-up."
Photo by Alexander Schimmeck on Unsplash