The SafeZone website is one of the health services offered by the Federal Office of Public Health (FOPH). It provides anonymous access to addiction support whenever and wherever it is needed. There are also links to specialist departments, self-help tools and further information. People seeking help can access anonymous addiction counselling from anywhere and at any time, without an appointment – which is how emergency aid works! Addiction experts from 24 specialist departments all over Switzerland are on hand, in three different languages.
'SafeZone helps' is our vision for SafeZone.ch and the counselling tool behind it. This means helping those seeking advice to overcome their worries and challenges, andcounselling for professionals in their work. We take this hugely meaningful task extremely seriously. From data retention to processes through to the design, we developed SafeZone to offer a smooth, case-specific, secure and low-threshold transition from offline to online counselling (i.e. blended counselling).
Addiction and trust
Given the taboo subject of 'addiction', trust was of vital importance - read more about mutual trust between those involved in the project as a success factor. We really appreciate the fact that users got involved in the open process of human-centred design. This meant that we could refer to actual needs rather than just hypotheses when making decisions. Feinheit is committed to human-centred design and implemented it in this project.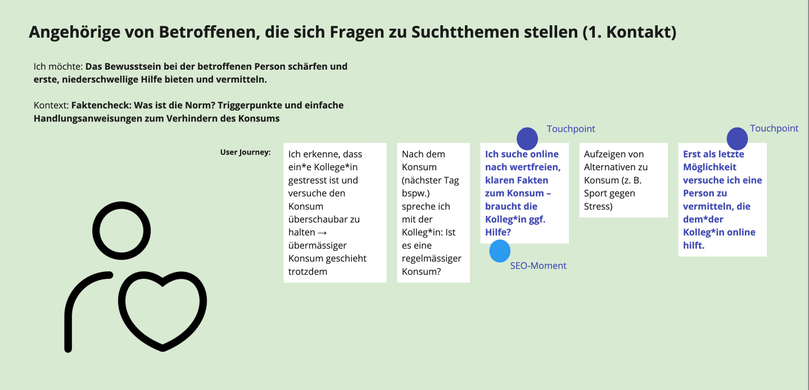 Low-threshold considerations were also key. Would people seeking help click on a suitable offering, or might they feel monitored? How long are people happy to wait in a chat until they are connected to a specialist counsellor? People in need of assistance may be desperate, or seeking help in secret. This may also be the case with friends and family members. Being discovered consuming illegal substances is also an understandable worry. Therefore, it is vital that all online actions mustbe absolutely anonymous, except when a person seeking help wishes to contact t a specialist directly. People seeking help are spread across all age groups and layers of society. This means that the relevant target groups are diverse. The website is tailored to the target groups. People seeking help are those immediately affected, their friends and family, and the website is tailored to their needs. The focus of the counselling platform is on specialists and people seeking help.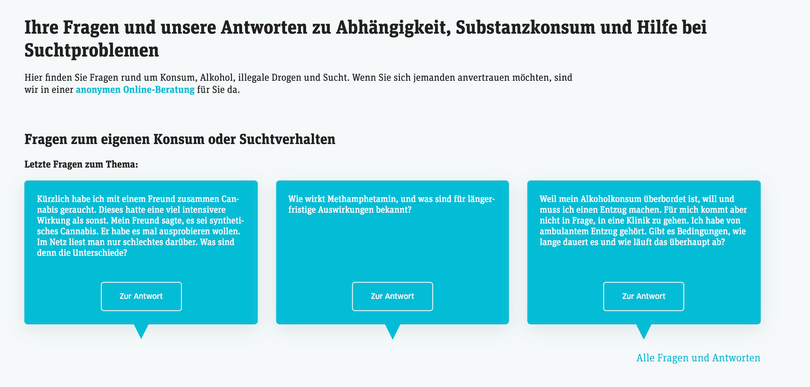 As well as public services, such as various chatbot self-tests, public questions and answers, and of course lots of information, users can also request online counselling from a specialist. Every single page of the website offers a link to counselling, so that visitors never need to search for it.
Counselling: online, secure, anonymous
People seeking advice can ask their questions quickly, easily and anonymously, and will receive an answer after no more than 72 hours. Once an anonymous question is submitted, it lands on the counselling platform and is automatically assigned to a suitable specialist. Counselling services can be one-off or take a more extended period of counselling that also includes personal sessions. This is the concept of blended counselling, which can take place flexibly, both online and offline. The part of the counselling application visible to people seeking help is fully responsive to allow complete use on a desktop, tablet or smartphone.
Counselling platform
On the counselling platform, communication is supported by two other open source tools – Mattermost and Jitsi. These enable group calls for discussion among counsellors, as well as supervisions and intervisions via Jitsi. Whether group or individual calls are required for the counsellors is decided individually and case-related. In the future, Jitsi will also be able to be used for client counselling. These conversations will be password-protected and can take place in a browser (without login or an app).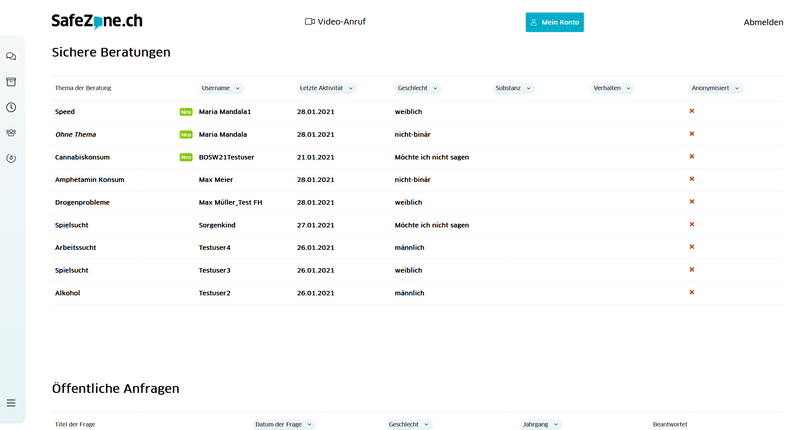 The counsellor tool needed to be very clear, especially given that counsellors need to manage different workspaces in parallel: physical locations such as counselling rooms, the main organisation's mailbox, and the SafeZone tool.
Counsellors can view current counselling by date. As well as the username and title, counsellors can also see the most recent activity and anonymisation status.
Completed counselling is found in the 'archive', which can be easily sorted using smart filters.
Requests are automatically recorded as a file or assigned to an existing file.
High security standards and data protection for all
The website's service ensures absolute anonymity for people seeking help and advice, even if an account is required. All this account requires is a freely selectable username. Providing an email address is voluntary. The application runs on Swiss servers in a computer centre in Bern. The infrastructure is operated in docker containers in a Kubernetes cluster. A strong model of roles ensures that only one counsellor is granted access to each non-anonymised case. All other roles can only see the request in anonymised form. The software underwent two comprehensive external reviews, and of course, meets all security standards and the highest data protection requirements.