We finally did it, after who knows how long talking, organizing, checking the finances, doing the paperwork, designing a new corporate identity and much more work, we're now very glad to announce that Bitflux and the Fribourg based mediagonal AG merged to the new company Liip AG, with office in Zurich, Fribourg and Berne. Here's the official (german) announcement.
Together with the portfolio of mediagonal, we will be able to provide an even better service to our customers in the future, especially in the area of E-Education and Flash, where the mediagonal people are real experts.
Liip AG does currently employ 21 people and Gerhard from mediagonal and me will share the job as CEO. Hannes and Nadja are additionally also in the management.
As said above, "we" will still stay in Zurich at the Schöneggstrasse 5, and the ex-mediagonal people will keep their offices in Fribourg and Berne. Therefore in our daily business, not much will change for us or for our customers.
Furthermore this blog here will also stay, it will just be renamed to "Liip Blog" and run under http://blog.liip.ch/, but the old URLs will work, as long as we pay for the bitflux.ch domain :) And of course, there will be more bloggers here, not just me anymore. Only company related news won't be blogged here anymore, as we set up a news section for that on the company website (with an RSS feed, of course).
And last but not least, here's the conclusion to yesterdays teaser. That's what our customers and partners today get via snailmail: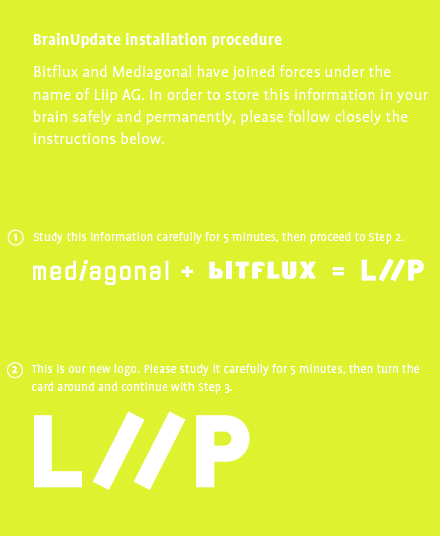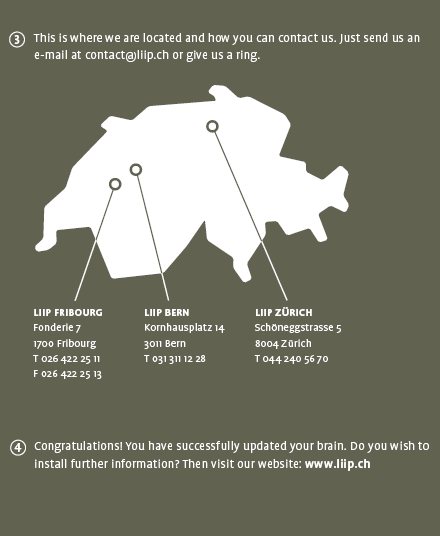 PS. The blog.liip.ch design isn't perfect yet, we're working on it :)