Whether you own an online shop, a blog or help content to support your users in using your product properly, there is always a goal you want to achieve with your content (the so-called conversion). More importantly, there are not only your goals, also your users want to achieve something whilst interacting with your content. Or when was the last time you visited a website out of pure curiosity? As a content strategist, I help companies to understand their users' Jobs to be done, love- and pain points and how to translate these into actionable content. But where can you start? Let's dig into my tips.
1 - Analyze the user journey
We often don't know where our users journeys start. Do they get a recommendation from a friend, or do they just google a problem and stumble upon you coincidentally? This is why we need to understand your users' mental models at every stage of the user journey. What are their pain points? What do they want to achieve? I like to work with a double-sided user journey like this one from UX Writer Torrey Podmajersky.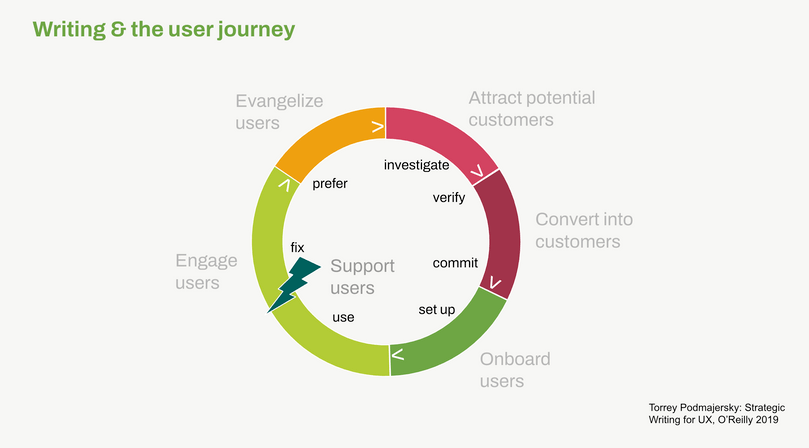 On the inside you see the goals users typically want to achieve, on the outside you see the goals your company wants to achieve with the content. You might have to refine the goals based on your business and also conduct some user research to learn more about specific user needs.
So, does your content help you deliver on your and your user's goals. To find out, I propose you to conduct a qualitative content audit to analyse content-fit throughout your current user journey to identify content gaps. You get a clear roadmap of what content needs to be updated to better fit the goals, what content needs to be added to close a gap and what content can be completely removed since it does not serve any goals.
2 - Align with other content creators
A 2014 McKinsey study on customer satisfaction found that consistent user journeys are key to customer satisfaction. One aspect of consistency that we can influence is a consistent use of language and cohesive content. My second tip for you is: align with other content creators in your company. Did you conduct user research regarding wording preferences? Great, so share your findings with others to work towards the goal of cohesive content. This helps to build trust into your company. As an external partner, we can help you by challenging and educating all internal stakeholders on the importance of cohesive content.
3 - Consolidated guidelines
This brings us to my last tip. Do not only share your learnings with others, consolidate them in guidelines that can be used by all content creators of your company. Furthermore, it is important that all content creators work with one single source of truth. If your social media team, marketing specialists and UX writers already use guidelines, consolidate them. This helps all writers create coherent content based on your tone of voice and on your brand DNA.
If you have any questions, don't hesitate to get in touch with us.