Over the two last weeks, both Kevin and myself have had the great pleasure to help organizing the 14th Debian Conference, DebConf13, which was held in Switzerland, at Le Camp, in Vaumarcus, on the shore of Lake Neuchâtel.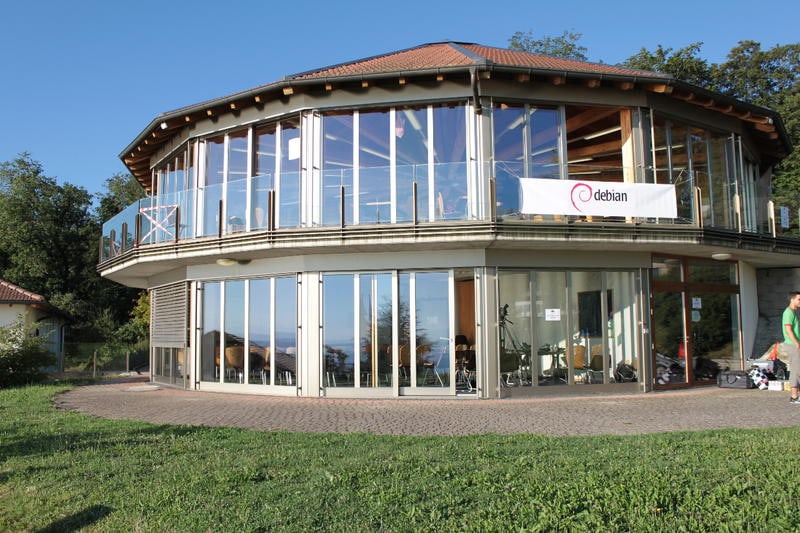 Picture by Jan Dittberner
Organisation
Organizing a full week of talks for more than 300 attendees from all over the world has been quite a challenge for the so-called DebConf-Team:
convincing that both the expensive Switzerland and the unusual conference venue were suitable for hosting the annual conference of the project;
finding enough sponsors in all contribution categories to make the conference financially viable;
negotiating and coordinating all big and small logistical concerns (as well as food, accommodation and camping) with the Le Camp staff;
scheduling more than 120 events on the six possible days in four rooms, across eleven tracks;
setting up two parallel wireless networks for more than 500 unique devices;
setting up and operating the video-streaming infrastructure for the two main talk rooms live for the benefit of remote attendees;
coordinating the accommodation of more than 200 attendees on-site;
given the remoteness of the venue, organizing a bar for the hallway track and evening chats (with good Swiss beer!);
enabling a work atmosphere for the benefit of all attendees;
organizing 6 parallel DayTrip programs while still bringing everyone together;
organizing the 20th birthday of the Debian project;
Talks and hacking
While the social, outside and leisure activities have certainly been the most enjoyable part of this DebConf, noone forgot the main goals of DebConf: face-to-face interactions, talks and work.
As mentioned above, DebConf13 permitted more than 120 events to happen, split between formal stand-up talks, BoF ( Birds of Feather, structured work-sessions) and Debian team meetings.
If any of the topics raises some interest to you, you can find all the DebConf13 videos online, thanks to the amazing work of the DebConf video team.
In a more personal level, I have had the pleasure and opportunity to present one talk titled From Smaky to Colobot, a history of software in Switzerland, in the DebConf 20th birthday track.
Liip
This wouldn't have been possible without the support of Liip in two contexts:
Liip has agreed to become a DebConf13 Bronze sponsor. All contributions helped making DebConf13 a possibility, from an idea to the two weeks of awesome reality that it's been.
Liip allowed both Kevin and myself to attend the conference on company time through using our Further Education budgets, made of both time and money (in this case, for attendance fees).
Many thanks to Liip!