Laravel European Conference 2013
A few weeks ago the first european conference dedicated to the Laravel PHP framework ( Laracon 2013) took place in Amsterdam at the beautiful Bimhuis venue.
The event was long awaited since the release of Laravel 4 in June and all the attendees (more than 200) seemed to be really impatient to listen and ask questions to the creator (Taylor Otwell) and the other prominent community members.
But now let's talk about the good stuff.
Generally, the quality of the talks was very good both presentation and content wise. I've found a bit of overlapping with 3 topics about the application architucture and engineering but nevertheless interesting.
Leaded by the impeccable Shawn McCool as ceremony master, the time really flew by and at the end of the day I still wanted to know more about the topic discussed earlier.
So the perfect excuse to have one or more beers together and get to know each other….
Day 1
I really enjoyed all the talks but especially Jeffrey Way's about testing. I learned a lot and discovered Codeception.
This was also the day of two "special guests": Jordi Boggiano (about Composer in Depth) and Fabien Potencier on how Symfony is contributing to the PHP standardization.
Day 2
This was a day full of interesting talks.
If I really have to pick one, that would be Ross Tuck's about less-known HTTP features. Meaningful content with outstanding presentation.
I took the following pictures with my backup (crappy) P&S camera so please don't be picky on the quality.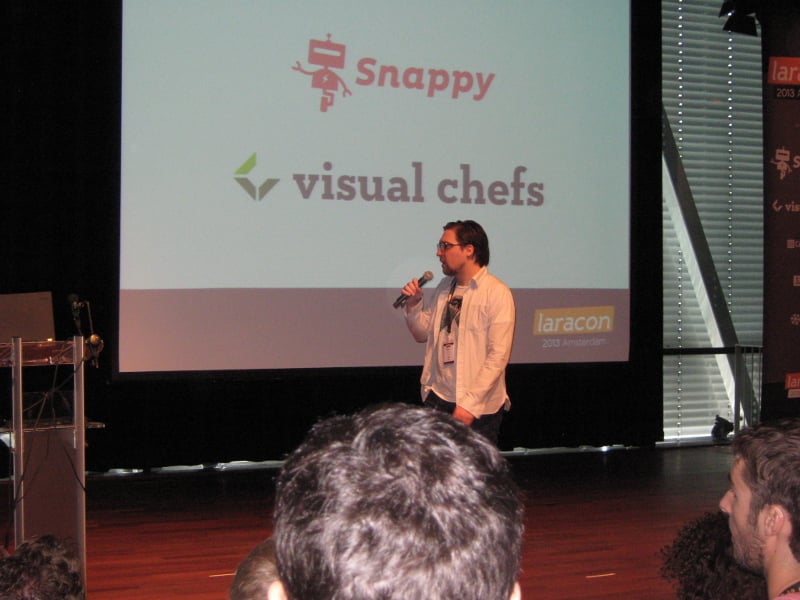 Shawn Mc Cool leading and moderating the conference

Ross Tuck gave some great insights about the less known aspects of the HTTP protocol
If you're interested or just curious about the Laravel Framework these are some of the reference resources to date:
Nothing else to add, except that I am already looking forward to Laracon 2014.