Birth of an idea
It all started because of Liip's longlasting engagement to Pro Velo's Bike to Work action. It take place every year during May or June. And foster seldom bikers to get into the habit of biking to work, for at least parts of their trip. Liip is a long-time participant and actively encourages Liipers to participate.
I had been thinking of reaching all offices all at once for quite some time: it could be organized in the form of a relay, participants could use different means of transportation, and so on. At the 2018 LiipConf, I shared the idea with other Liipers and got a lot enthousiastic feedback to finally get around to organize "something". That same evening, I turned to my favorite Bike Router and tried to connect the dots. The idea had then become "try to work in every Liip office, bike between the offices".
Initial implementation
With five offices, Liip spreads over most of Switzerland, from lake Geneva to lake Constance, along the Geneva → St.Gallen IC 1 train line. Initially, I thought of spreading the voyage in 5 days, one per office. But looking at the map and at the routing calculations, it quickly became obvious it wouldn't work, because of the Bern → Zürich leg, which is at least a 125 km ride. Cutting it in half, and not staying overnight in Bern made the plan somewhat realistic.
In early September, I announced the plan on Liip's Slack #announcements channel, in hope to find "Partners in Crime":
🚴‍♀️ Liip Bike Grand Tour Challenge 2018 🚴‍♂️



Motivated to join on a Bike Grand Tour with Liipers? The idea is very simple: connect all Liip offices in one week, on a bike.


When? W40: Oct 1. → Oct 5.
How? On your bike.
Work? Yes; from all offices, in a week!
Afterwards, the team of bikers took some time to materialize: although we are working in a very flexible environment, being available for work half-days only for a week still isn't easy to arrange for: client and internal meetings, projects and support to work on, and so on. After a month, four motivated Liipers decided to join, some for all the legs, some for only some steps.
It is important to mention that the concept was never thought as a sports' stunt, or being particularly tough: e-bikes were explicitly encouraged, and it was by no means mandatory to participate in all parts. In other words: to enjoy outdoors and have a reachable sports challenge with colleagues matters more than completing the tour in a certain time.
Now, doing it
Monday October 1. - Lausanne → Fribourg
Fast forward to Monday October 1st. The plan was to work in the morning, and leave around 3 p.m. The estimated biking time is approximately 4:30. But the weather in Lausanne was by no means fantastic - light rain for most if not all the trail. That's why we decided to leave early, and were on our bikes at 2 p.m. As for routing, we agreed to go through Romont, which has the advantage of providing an intermediate stop with a train station, in case we wished to stop.
~ 65 km
Amplitude: 519m - 826m
Ascend: 110m; total 635m
Cantons crossed: Vaud, Fribourg
We started with a 15kms climb up to Forel and one very steep ascend in La Croix-sur-Lutry, on which we made the mistake to stay on our bikes.
We arrived in Fribourg after 5 hours in the cold, wind and light rain; often in alternance, but also combined. Thankfully, we were welcomed by friendly Liipers in Fribourg who had already planned a pizza dinner and board-games night; It was just perfect!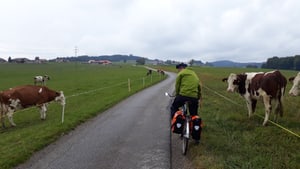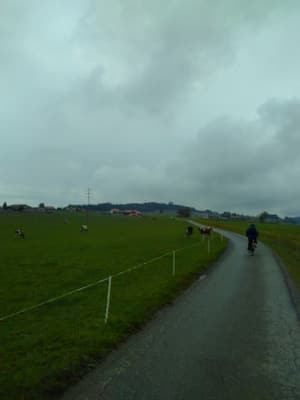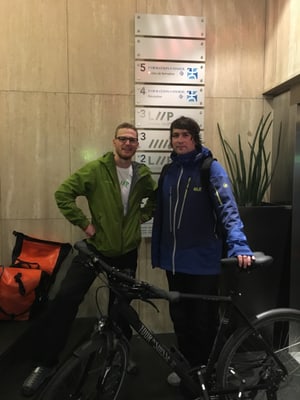 Tuesday October 2nd. - Fribourg → Bern
After a well-deserved sleep; the plan was to work in Fribourg two hours only, to leave on time and arrive in Bern for lunch.
~ 33 km
Amplitude: 534m - 674m
Ascend: -72m; total 181m
Cantons crossed: Fribourg, Bern
This was frankly a pleasant ride, with an almost 10kms downhill from Berg to Wünnewil, and then a reasonable uphill from Flamatt to Bern. In approximaely two hours, we were able to reach Bern. The weather had become better; not as cold as the previous day, and rain stopped.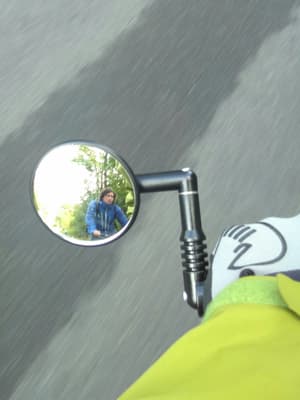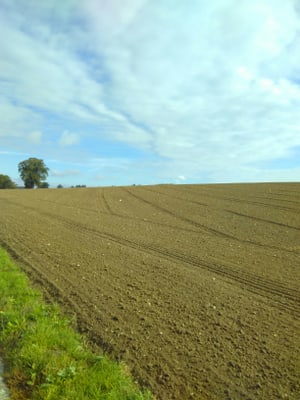 Tuesday October 2nd. - Bern → Langenthal
In Bern, changes within the team happened; one rider who made it from Lausanne decided to stop and got replaced by a fresh one! ☺ After a General Company Circle Tactical meeting (see the Holacracy – what's different in our daily life? ), we jumped on our bikes towards the first non-Liip office overnight stop, northern of canton Bern.
~ 45 km
Amplitude: 466m - 568m
Ascend: -71m; total 135m
Cantons crossed: Bern, Solothurn
Wednesday October 3rd. - Langenthal → Zürich
After a long night's sleep in a friendly BnB downtown Langenthal and a fantastic gargantuous breakfast, we were now aiming for Zürich. The longest leg so far, crossing Canton Aargau West to East.
~ 80 km
Amplitude: 437m - 510m
Ascend: -67m; total 391m
Cantons crossed: Bern, Aargau, Zürich
When approaching Zürich, we initially followed the Route 66 "Goldküst - Limmatt", with small up- and downhills on cute gravel. But after 30 minutes of that fun, we realized that we didn't progress fast enough. Therefore we tried to get to our destination quicker! We re-routed ourselves to more conventional, car-filled routes and arrived in the Zürich office around 1 p.m., quite hungry!
Thursday October 4th. - Zürich → St. Gallen
After a half-day of work in the great Zürich office, and sore legs, we geared towards St. Gallen. The longest part with the biggest total ascend of the trip:
~ 88 km
Amplitude: 412m - 606m
Ascend: 271m; total 728m
Cantons crossed: Zürich, Thurgau, St. Gallen
After three days of biking and more than 200 kms in the legs, this step wasn't expected to be an easy ride and it hasn't been indeed. On the other side, it provided with nice downhill slides (Wildberg → Thurbenthal) and fantastic landscapes, with stunning views: from the suburbs of Zürich to Thurgauer farmland and the St. Gallen hills. Besides, the weather was just as it should be: sunny yet not too warm.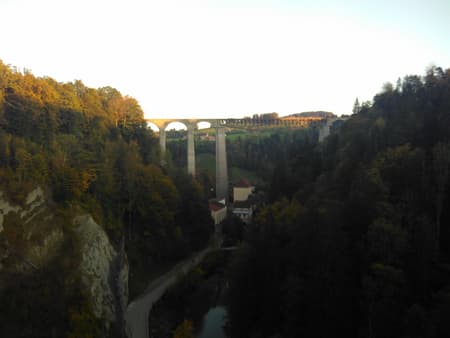 After 4:45 and a finish while the sun was setting, we finally reached the St. Gallen Liip office!
We made it! 315+ kms in 4 days; all @liip offices reached! 😍 #liipway #biketoprogress #workbikebalance #sports "On a cycle or in life, keep moving to stay balanced!" pic.twitter.com/yVGts27AEV

— Liip (@liip) October 4, 2018
« Fourbus, mais heureux ! »
Friday October 5th. St. Gallen
Friday was the only day planned without biking,. And frankly, for good. We were not only greeted by the very friendly St.Gallen colleagues, but were also lucky enough to arrive on a massage day! (Yes, Liip offers each Liiper a monthly half-hour massage… ⇒ https://www.liip.ch/jobs ☺). After a delicious lunch, it was time to jump on a train back to Lausanne: Four days to come, 3:35 to return. It really brought a bizarre feeling: it's possible to bike from Lake Geneva to Lake Constance in four days; but it still takes 3.5 hours on some of the most efficient trains to run back.
Wrap up
~ 314.15 kms (yes; let's say approximately 100 * π)
8 cantons crossed
~ 2070 m of cumulated ascend
No single mechanical problem
Sore legs
Hundreds of cows of all colours and sizes
One game of Hornussen
Wireless electricity in Thurgau
Learnings
Liip has people willing to engage in fun & challenging ideas!
Liip has all the good people it takes to support such a project!
The second day eightiest kilometer is easier than the fourth day eightiest kilometer: it would have been way easier with legs of decreasing intensity.
It takes quite some time to migrate from a desk to a fully-equipped ready-to-go bike.
Carrying personal equipment for one full week makes a heavy bike;
Bike bags are a must: one of us had a backpack and it's just not bearable;
The first week of October is too late in the year, and makes for uneasy conditions (rain and cold);
One month advance notice is too short;
Classical Bed-and-Breakfast are very charming.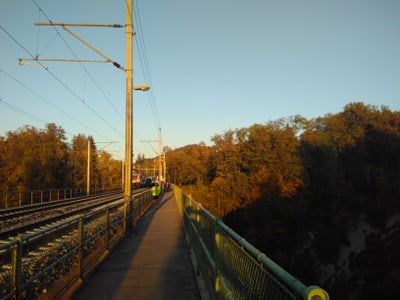 Thanks
Managing this ride would not have been possible without:
Liip for creating a culture where implementing crazy ideas like this is encouraged ("Is it safe enough to try?");
Supporting Liipers in various roles for arranging or providing accomodation, ordering cool sports T-shirts, organizing cool welcome gatherings (game night, music night), and being always welcoming, encouraging and simply friendly;
The SwitzerlandMobility Foundation for providing fantastic cycling routes, with frequent indicators, orientation maps and markings for "analog" orientation.
Next year
Given the cool experience, and many declarations of intent, it is very likely that this challenge will happen again next year, in Autumn; but vice versa! Want to join?