We welcomed Baptiste, 14 years, in our Lausanne Office. One week of "trial internship" to understand what it is to be a dev.  What could I teach him in such a short time? Read this post to discover what I organised for him and how it went.
Dev step by step
Baptiste was visiting us to discover the different facets of our job, in view to better know what he wants to do later. This week was a professional orientation internship. Taking this issue very seriously, I have given much thoughts on how to prepare a broad, dense and accessible program.
Day #1 – getting used to it
One week felt really short to summarise what my job as a dev consists of. I decided to go step by step. I wanted him to feel welcomed and comfortable. The first day was about presenting what is a web application project and how we are organized at Liip to realize a project. I introduced him to each team member and presented what him what they do. Then I gave him a lesson on the web basics, starting from scratch. A lot of information this day.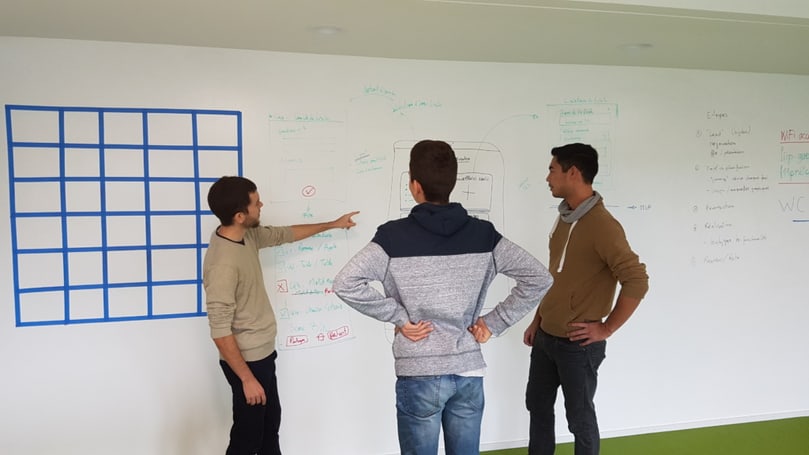 My colleague at Liip Fabrice and I had a very optimistic idea, also the right idea I think: Baptiste will realize his own project during this week, and use it as a subject of all further lessons, pair-working and researches. After a great brainstorming meeting just like we, at Liip, have the secret, Baptiste choose to realise an application dedicated to students to help them to memorize knowledge, (like a card game to learn foreign language vocabulary).
Day #2 – Learn the basics and start your own project
I wanted him to have an overview of the web basics, so I found Fabrice, who had some time and a lot of good will, to give to Baptiste a lesson of programming with python. Then he started the "Frontend foundation HTML/CSS" course on codeschool. So he was ready to start his own project.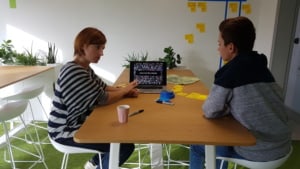 Baptiste discovered the UX job by doing a UX workshop! Then he discovered the scrum master job by doing a backlog grooming. And we even had the time to let him discover the development job by starting to code.
Day #3 – See a real client situation
I guess it's a must do, when you're doing this kind of internship, you have to see how work the relations between the client and the company. At that moment my squad and I had an important sprint review. So Baptiste integrated the squad for the day.
Day #4 and #5 – Implement your project
With my help and the help of some team members, I was confident to let out trainee continue the realisation of his project.
Conclusion
It was a new experience for me to supervise an internship. I think it went very well and we received very kind feedbacks from Baptiste and his mother.
I feel very proud to encourage education. I'm also proud and grateful to work in my team which allow me to drive this kind of collaboration with the future brains of web development. The program for the next internship is ready to be played and extended. The team and me are already looking forward.