Hi there, it's Marc again, talking about recent development in the GottaGo camp.
As I promised in Blick am Abend and a recent Blogpost, we are ready to roll out the new version of "GottaGo" in September.
We are facing minor naming issues, since another app is on the App Store with the same name, but we got it first, so it won't be a big issue.
The testing versions are already out there and we got amazing feedback so far. That's why we chose to submit GottaGo v.0.1.0 to the App Store on September 16th. We hope that Apple will release it sooner than later, but we can't really tell. Usually it takes between 1 – 2 weeks.
So, what is new in this already useful app? Everything you wanted it to have – and more.
We waited quite long to release this version, against a software engineering law: "release often, release early". This is because we wanted to provide you with a complete tool, where none of your wishes are prioritized – they were all very important to us.
You can now either watch the new video (h.264, 50mb) or read on and see some screenshots. I recommend both.
Before we take a deeper look at the features, here are some screenshots for you, for a better imagination.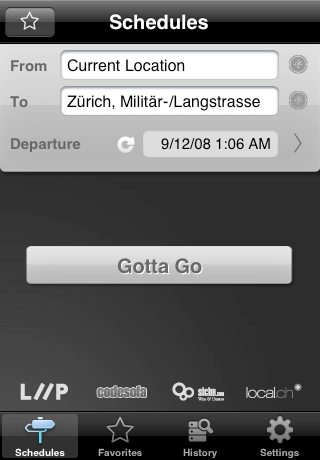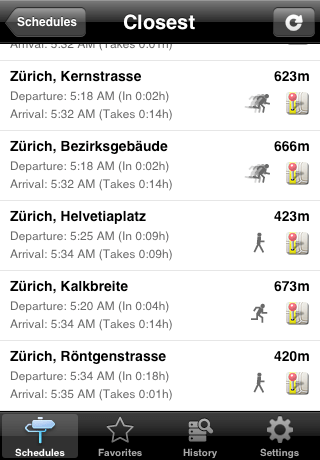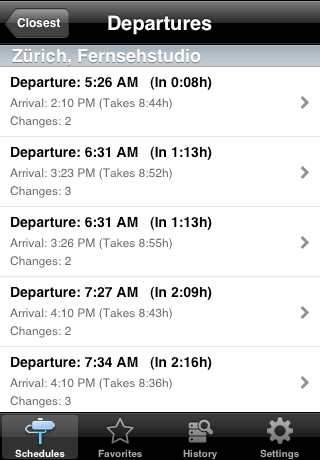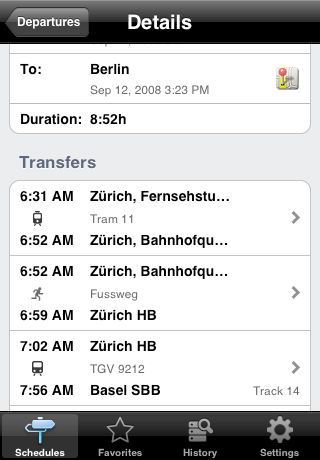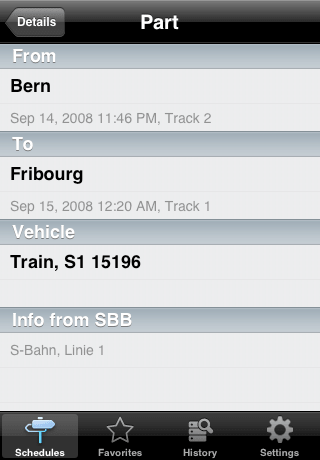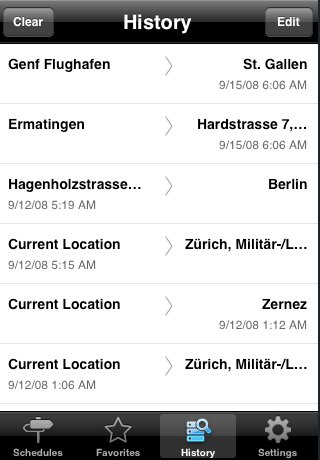 To the features:
Language support: We now support English, German, French and Italian – we'd actually support Rumantsch too, but there is no setting for the iPhone.
Search as you type: A list of stations and contacts which match your input are displayed as you type. Also known as "Live Search"
Stations and addresses get validated, just in case you misspelled it.
All new locator: This should dramatically increase your experience with GottaGo. You can set the accuracy which fits your needs and your city/town.
Use an address for nearby search: What was only possible with "Current Location" is now possible with addresses as well. Just type your address and it will automatically find the nearest stations around you.
Set your travel date: Now you can look up later trips and your returning trips as well.
Switch "from" and "to": With a click on the "From" and "To" texts, you switch the values – just in case you want to get home again.
Transparent offline mode / Recent trips: Your old searches are stored on your iPhone for later reuse. Even when you're in a tunnel or the like, you can take a look at your recent trips, without internet connection.
Open GottaGo where you left it: Whenever you decide to close GottaGo or open Maps out of it, it will open at the same position you left it.
Loads of user interface changes: You will see, that with the new features comes a much better UI, which will help you find your way through all the new features.
We hope it's not too much change, but they all make a lot of sense to us – and if you think there is something else you want to see in GottaGo v.0.2.0: Don't hesitate to contact us!
In the end, it's a pleasure to thank the other main contributors to GottaGo – there are also a lot of small contributions, which were/are also needed, thanks a lot to you, too!
Main contributers were our partner designer from sichr.com and the guys over at local.ch, especially Vasile who did a really great job with their API.
Thanks a lot to you guys!
If you want to get bleeding edge information and updates, visit my blog on codesofa.com – where you can also sign up yourself for the newest of the newset GottaGo test-versions.
Have a safe trip.