tooyoo: When Talking About Death is a Gift
In a constantly changing world, there is this one thing we can be sure about. As inevitable as it is, we avoid the subject. But tooyoo helps you plan the future.
A Project Made with Love
Have you ever thought of organ donation? You might have a Swiss Transplant card in your wallet, you might have informed your loved ones and your family doctor. You might have also an opinion about the use of intensive medication. Or are you part of the association EXIT? Have you informed your doctor on your opinion about brain death?
Actually, this is only a tiny part of all the questions that your loved ones will face in case something happens to you.
Let's be honest, when faced with loss, may be sudden and unexpected or the relief of an illness, we are not completely ourselves. Even if we bravely take on the pain, there is a stack of administrative procedures.
In 2016, the tooyoo team contacted us to work on the project of this platform. We were all touched by the subject and could relate. We were enthusiastic to collaborate, because this is such a deeply caring project. I mean, tooyoo is the kind of project that has an impact on people's life. It is about love and care.
What is tooyoo About?
Tooyoo comes like a relief for the family and friends, especially if they want to respect someone's last wishes. Tooyoo enables the user to store relevant data in a digital safe. The data is then transmitted to chosen loved ones, they are called the 'Legacy Contacts' in the app. The app will guide the Legacy Contacts, step by step, through the administrative procedures following the death.
Since the app touches its users in such an intimate manner, they were our focus from day one. We adopted a user-centered approach, which is visible in our UX and design approach. We wanted the users to feel safe and comforted.
tooyoo's User-Centered UX Process
Even though the app talks about death, we did not want it to be gloomy or creepy. I mean, it is obviously not a cheerful subject, but we needed to find a way to create a comfortable environment.
From Personas, to Empathy Map and User Journey we left nothing to chance.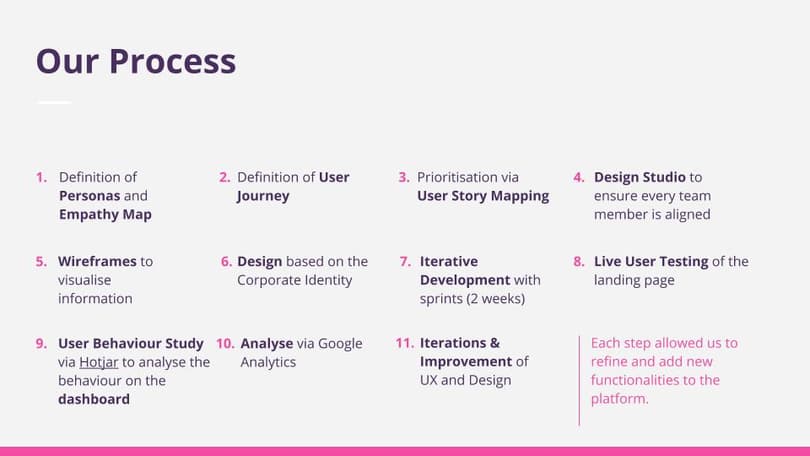 We defined Personas, and embodied them to take into account the needs and expectations of the user. Our UX process included various steps, so we could deeply dive into the subject and answer exactly the user's needs.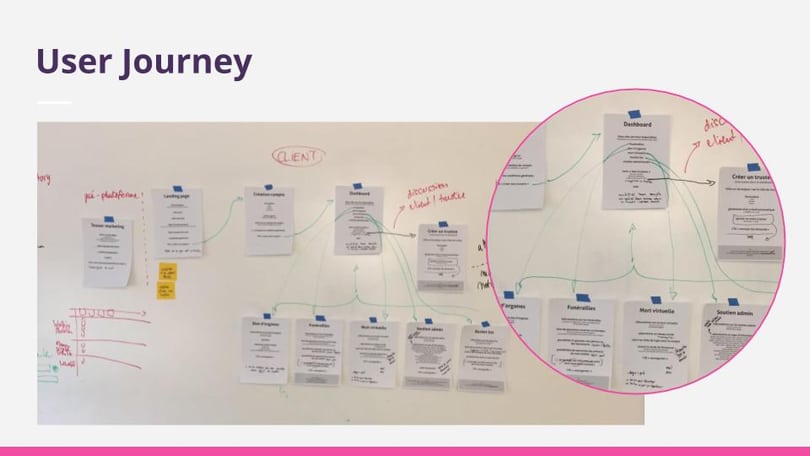 Usability: The Need of Reassurance
From the first workshops, especially through Empathy Map, we understood the need for reassurance of the user. Death is not a subject one can joke about. Especially because the app entails confidential information. Indeed, the app does not only contain information about organ donation, brain death, but also will and testament, passwords and accounts.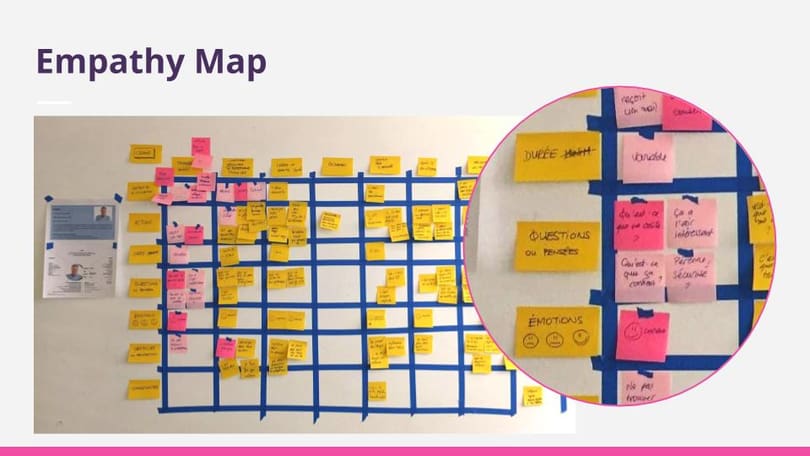 In case you wonder, an Empathy Map is a collaborative tool that is used to gain a deeper insight into the customers. Similarly to a Persona, an Empathy Map can represent a group of users, such as a customer segment.
In terms of usability for this project, the challenge is not at the level of fancy effects, animations or transitions, but somehow at the level of trust. How will the users feel secured and reassured while answering sensitive questions to prepare their afterdeath?
Usability is a Constant Process
A great usability is not a one shot, but a constant improvement. We use Hotjar, which allows us to visualize exactly the actions of the users on the main pages: heatmap on the home, but also hesitations and scroll. With this service, we are constantly improving the usability and efficiency of the platform.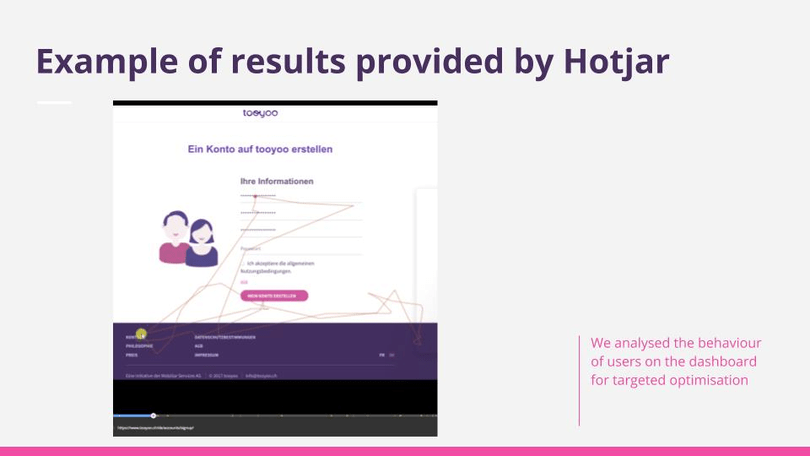 Thanks to Hotjar, we can target our improvement to create a smooth experience for the user.
How Does tooyoo Work? Today I Plan Ahead
I have seen how overwhelming and painful a sudden death is. A tragedy for family and friends. Being additionnally faced with the hassle of administrative procedures, is a nightmare for the relatives who have to take care of it.
Today, I decide to plan ahead and create a free account of tooyoo (you can freely test it for 1 month).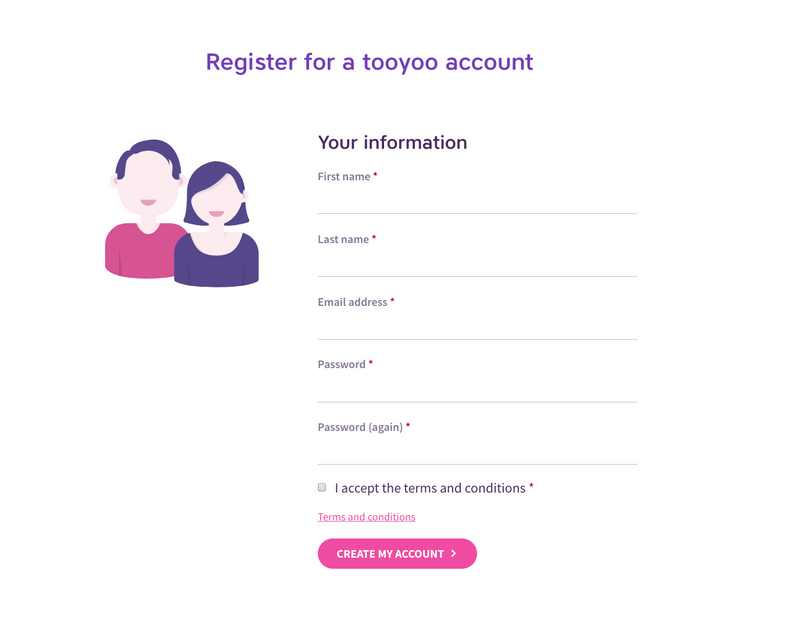 After creating an account, I can answer a few essential questions, mainly medical stuff, similar to the ones I mentioned above (organ donation, brain death) and testamentary questions.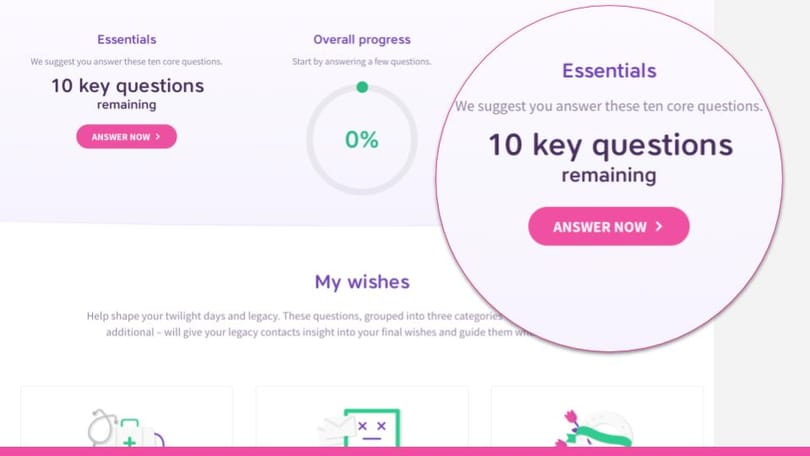 Then I can fill in questionnaires by theme according to my priorities. I can change my answers whenever I want, on my favorite device.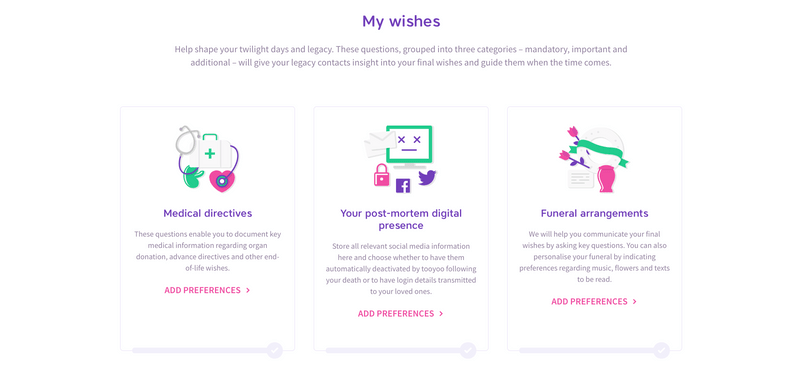 When it was about putting a tick in a box,I mainly did it on my mobile, rather than sitting at a desk with my laptop. The questions are actually quite thorough. They go further than what I expected.
The Legacy Contacts
The important part, is that I chose a legacy contact. In French they are called, my 'Guardian of Wishes', which I find quite poetic. It makes it a bit emotional in a sweet way. The Legacy Contacts are reliable and trustworthy relatives or friends. They will also receive an email explaining that I have chosen them as Legacy Contacts. But they don't have access to confidential information before I die.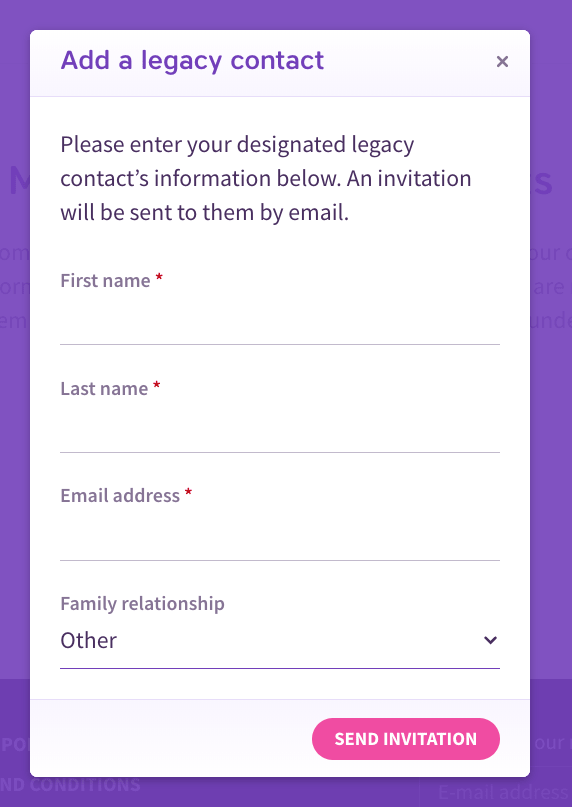 The Legacy Contacts can either accept or decline my invitation to be my Legacy Contact. In other words, Legacy Contacts have no obligation to do anything.
The info will be unlocked step by step, in case they need it. They never access to all of my information at once. There are various steps. Everything is secured and timed, created to avoid confusions and to guide my loved ones.
Secured Timeline to Unlock Information
In case, the worst happens, the Legacy Contacts can announce the death. I created a fake account for France Gall, who asked me to be her Legacy Contact.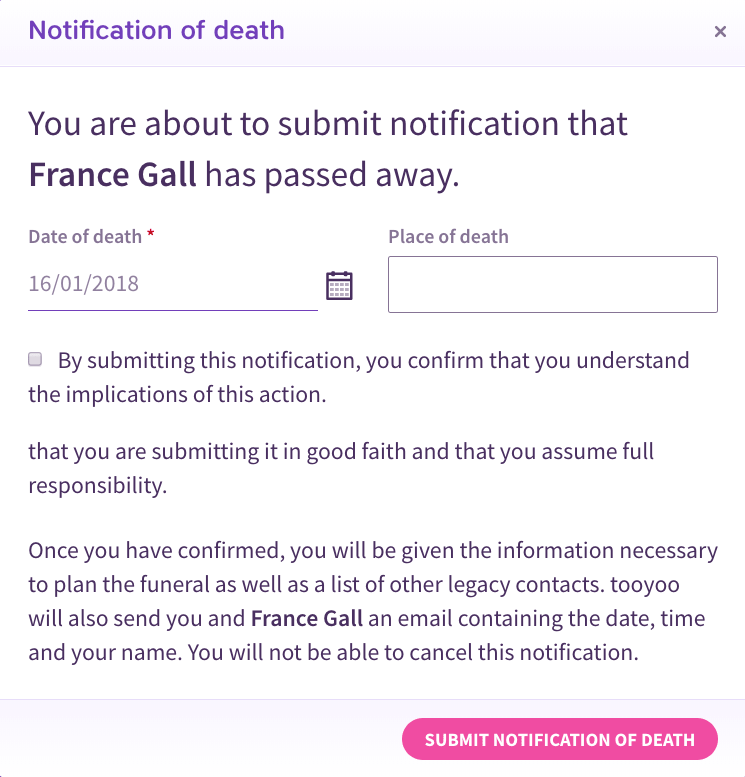 Once the death is announced, the Legacy Contact automatically receive an email containing links to the next steps.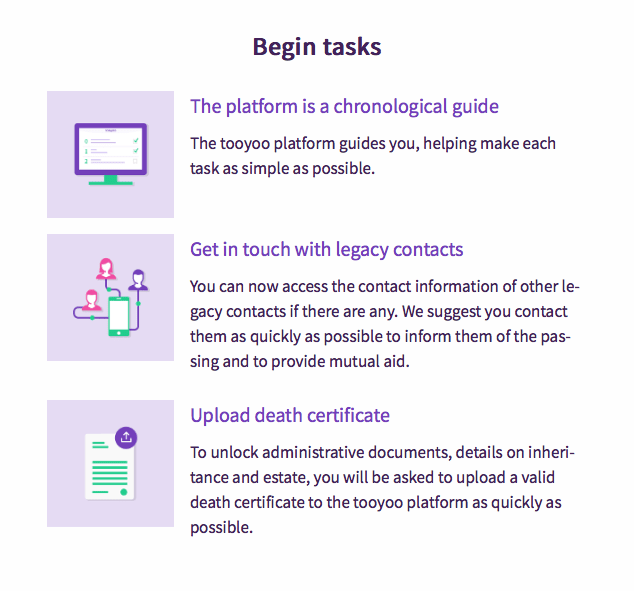 The Legacy Contacts can start an emergency procedure. I was surprised, it is really detailed. For example, you can announce who depends on you, not only human, but also animals. You can prevent you cat starving to death in you appartement. You can also insert the contacts of a counselling organisation that will help your Legacy Contacts.
Let's say for example that you are a religious person. You can insert the contacts of your local community. In other words, when you pass away, your loved ones will be advised to contact the community for support and will be provided the contact information.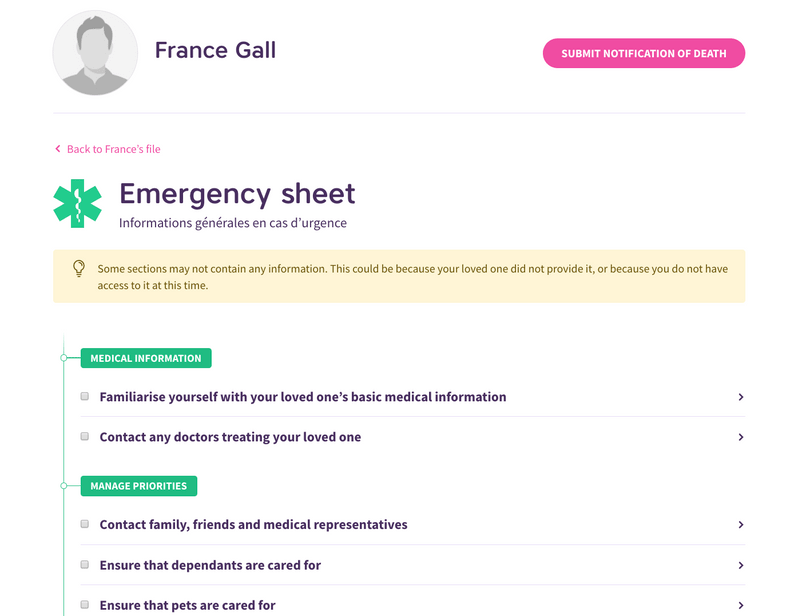 Encrypted HTTPS for High Security
As mentioned, tooyoo is like a safe box, with several levels. I, as user, can secure information, that will be delivered when I cannot do it anymore. Each given information is available at different times (before death, after death, after validation of the death certificate) according to their level of confidentiality.
As a Legacy Contact, I will access a timeline, let me know what I should do and providing me the information to do it.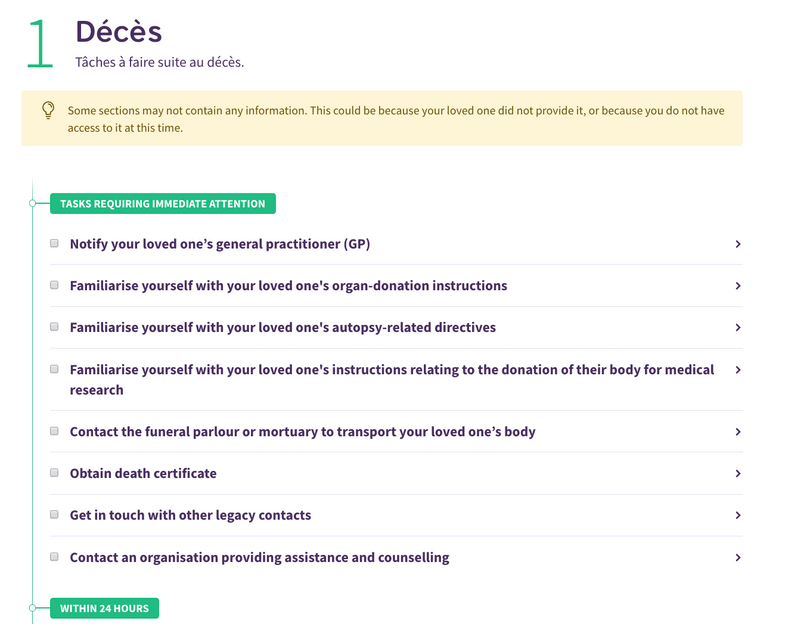 The app is about intimate feelings and planning. The UX workshops revealed how important security and confidentiality is. We are also very much aware that it deals with highly confidential information. I mean, the app deals with very special data: access to social networks to information that is usually transmitted in small family committee.
For these reasons, the app is not just data circulating in HTTPS. My colleagues implemented a complex encryption system to guarantee the security of the data entered by the customers. All information stored in the database is encrypted and only the customer and their Legacy Contacts can decrypt them.
To imagine that someone would try to access my information, seems to me a scenario for a soap opera. However, the data the apps deals with, is truly highly confidential. So in case it does happens, and someone still manages to break into the server, they would only have access to indecipherable data.
It is not only text data that is encrypted, but also but also images and other uploaded files. My colleagues adapted several core component of the language used (Django) to work with encrypted elements.
Technology as a Service to Make our Life Better Offline
As a team, we deeply cared about the development of tooyoo. I wanted to write about our work, and I wondered what it felt like to use it. I wondered how to write about it, between processes and emotions. I didn't chose to write a report on the usability of the app for example, because I thought that my testimonial would not be relevant since I was involved in the project.
I honestly felt weird writing this blogpost. Talking about the tech and the UX process of a project is one thing. Trying it out and actually thinking about one's death is another. It is also not a subject I usually talk about with my relatives, it is gloomy to do so.
I created an account using the name of an existing person who had passed away recently, the french singer France Gall, because it was too creepy to announce my own death, even when using an alias! Emotions were hardly separable. However, in this particular case, I think that talking about death is a gift for my loved ones. It is a fact that tragedies are unbearable and it is impossible to think straight when the pain is hitting. tooyoo felt like I could accompany the people I love during one of the worst moment of their life, and I could even do such things as reminding them to call for support.