TEDxCERN: Don't be afraid of technology
Technology is just a tool! In one of the most prestigious place for researches, brilliant scientists shared their inspiration during a whole afternoon. Ripples of curiosity was the theme. This is my report of the conference.
Some people travel to visit the CERN, whereas I had never been there. It is not an impressive building lost in the middle of a green field in the countryside of Geneva like I pictured it. It is lost in a suburban area and the building is not high. Rather, it has long, never-ending corridors filled with doors leading to little offices. It's very quiet, people whispers there. It looks nothing like the big open space that I am used to. However the people I listened too, have the same conviction about their projects.
Technology & research: for better or worse?
Technology already controls me. I am doing what it tells me to do. See, it tells me where to go and when (well that's my google calendar). And we are developing robots, they are clever machines. One day It will replace me at my work, then I will wake up and they will take over the world. And all babies will be perfect and born in incubators.
I admit, sometimes, I am lead by emotions and fear technology.
At the CERN, for one afternoon, I listened – mostly open-mouthed. Each of these scientists was amazing, not only because they were brilliant, but also because they were filled with conviction. Each of them develops or researches something which is beyond what we imagine on a daily basis.
Software, ADN, Medical Testing, Artificial Intelligence, each of these researches could revolutionize our world. For better or worse?
Samira Hayat – beyond her fear
Where she comes from, drones are killing machines. As a telecommunication engineer, she overcame her fear and started developing software for drone. It enables drones to work together as a single unit.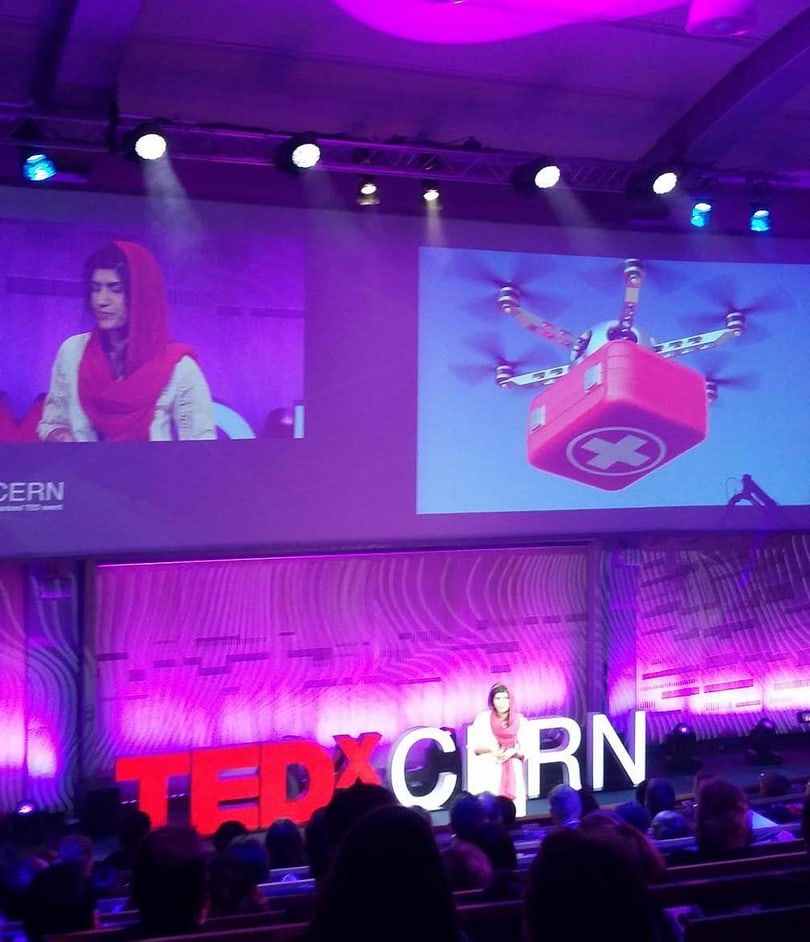 Drones are killing machine
Hayat started by sharing that where she comes from, kids say that they like better cloudy days than sunny days. Because on cloudy days, drones do not fly, so they do not kill. In other words, on cloudy days, kids can play in the streets, just like any normal kids.
As a telecommunication engineer, Hayat got a job at the University of Klagenfurt. She doubted, then accepted the job, because she is convinced that technology is what we make of it.
Drone can save lifes!
Hayat is currently developing software that enables groups of drones to work together as a single unit. The autonomous drone system developed by Lakeside Labs and U Klagenfurt, where she is a PhD student is one of «15 novel ideas for 2015» featured by the WIRED magazine.
As an example, the image below is an overview generated during a project work for a firefighter drill.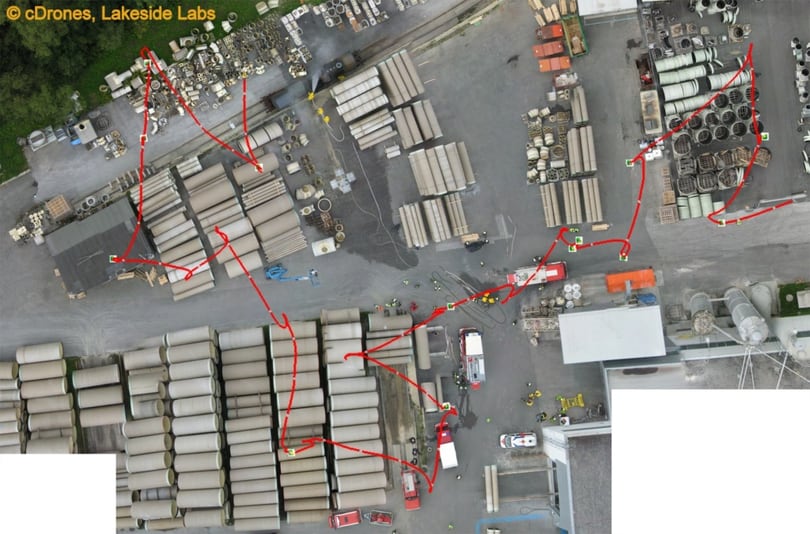 "The red line in the image shows the flight path of the drones and indicates where the drones took pictures. The multiple images taken by the drones are then stitched together for a final overview image", explains Hayat.
Hayat and her team develops UAV systems which could be used in emergency situations or accidents or for automatic deliveries.
Her work can have application to larger global issues, such as unmanned searches and rescue missions or urgent medical deliveries, and construction in remote areas.
Technology is a tool
A tool, just like a knife. You can use it to cut someone's throat, save someone's life during a surgical operation or cut your bread. It is still the same tool. What changes is the hand holding the tool and the intention behind it.
What matters here, is trust and conviction. When I develop something, I am convinced that I am doing something good, and I see the positive use of it. I cannot ever predict or chose how other people are going to use it. I just trust, that they will be caring. The danger does not come from the technology, but from the person manipulating it.
To conclude: we should not be led by fear
We can transform something that makes us fear into something that serves our well-being. People with bad intention should never prevent us from working on good things. We should not be lead by fear but let our conviction lead us.
It sounds idealistic and soppy. However, sometimes, I am overwhelmed by what happens around me (let's say elections) and I forget it. What I remember from this afternoon at the CERN is that my actions should be lead by my beliefs and not by feelings of fear. If I think that something is good, I should just carry on.
Spread the word and carry on!
Thank you Samira for the picture!
If you are interested in reading more about Samira Hayat, clic here (in German) and if you want to read more about her work clic here.